Moon Theatre touring the United States
Submitted by: Luis Manuel Mazorra

11 / 23 / 2011
---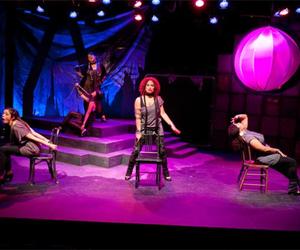 ---
The Cuban theater group Teatro Luna completed a tour of five cities in the United States, garnering a number of applause and the public's fascination with the work Delirio Habanero. Actor Mario Guerra spectacular classified the work done.
Speaking to reporters here today offered the bartender interpreter Rod said that these presentations in the northern nation have been the best and most professional experience throughout his career, the emotions experienced.
Tears, emotions, memories, nostalgia and much respect prevailed in every function, especially in Miami, where many Cubans living in the U.S. city thanked for the work, he said one of the supporting cast of the popular film The Beny, recreating passages the life of the King of Rhythm.
Described by some experts as one of the most successful Cuban staged in recent years, Delirio Habanero (2006) tells the story of three characters, two emblematic figures of the local music, who between songs, dances and jokes are played memories of greatness and weakness, without giving up their identity.
The cast, which also consisted Amarilys Nunez and Laura de la Uz, had the opportunity to share with college students, through lectures, discussions and demonstrations on the assembly process of the play.
Written by the late playwright Alberto Pedro Torriente (1954-2005), directed by the young actor, choreographer, costume designer and set designer Raul Martin, the play takes to the stage the issue of Cuban migration, together with the final music and its culture.
The tour of Teatro de la Luna, organized by Wake Forest University in North Carolina, looked at several functions in the towns of the region Winston-Salem and Chapel Hill, as well as New York, the campus of Vermont and Miami.
---
Related News
---