A bronze for Cuba in the World of raisins
Submitted by: Luis Manuel Mazorra

11 / 18 / 2011
---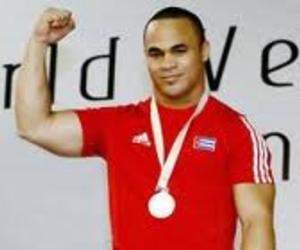 ---
World Championship weightlifting, held in Paris, Cuba won a bronze medal for the young Yoelmis Hernandez (85 kg). The medal was taken on Friday at the clean and jerk with 205kg.
The West Indian was on the brink of crown, but the Iranian Kianoush Rostami left him with the desire to lift 209 kg, moments before the Frenchman Benjamin Hennequin also displaced, placed second with 208 kg.
In the biathlon, the Persian also led with 382 kg, 173 kg after boot, while the Frenchman was again silver in total with 378 kg, after an initial valid exercise of 170 kg.
Here, the Polish Adrian Zielinski, monarch last year in Antalya, Turkey, with 383 kg, could not defend his scepter and anchored third with 376 (174-202).
Yoelmis totaled 360 (155-205) which allowed him to ninth position among 53 athletes.
The Isle of Youth had two attempts only effective, it failed twice with 160 kg at the start and an equal amount of 210 kg in the clean, an amount which was silver in Antalya'10, just where their personal digits improved to 374 (164 -210).
Thus the absence of what you can do tonight Antillean Javier Vanegas (94), monarch in the Pan American Games Guadalajara, the island gets medals for the sixth consecutive orbital event, after filing in Doha'05 (0-0-1 ), Santo Domingo'06 (1-1-2), ChiangMai'07 (2-1-1), Goyang'09 (0-0-2) and Antalya'10 (0-1-0).
---
Related News
---