Improve linkages between Cuba and China in the film industry
Submitted by: Luis Manuel Mazorra

10 / 26 / 2011
---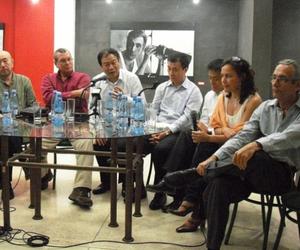 ---
Cultural authorities of China are visiting the Habnana, where they met at the headquarters with ICAIC, the Cuban Institute of Cinematographic Art and Industry, Havana, to expand their ties in the field of cinema.
Deputy Minister of the State Administration of Radio, Film and Television of the Asian giant lzhang peppers, reaffirmed his country's intention to cooperate on the film industry in the Caribbean nation.
Leading a delegation to visit Havana for the Second Chinese Film Festival in Cuba, said the deputy minister of the Asian giant that next year will hold a week of exhibitions of Cuban films in the Asian country.
Peppers said he discussed the possibilities of producing films together between filmmakers from both countries.
Titles such masters as Zhang Yimou, low hawthorn tree and Chen Kaige, with always captivated, join some less known as Zhou Xiaowen, with the film Iris.
The card also includes the films Mulan, Jingle Ma; íÁnimo, Lala, cheer up! , Xu Jinglei, Confucius, director Hu Mei and after the earthquake, Feng Xiaogang, among others.
---
Related News
---