The great semifinal, Pan-American in baseball: USA-Cuba
Submitted by: Luis Manuel Mazorra

10 / 24 / 2011
---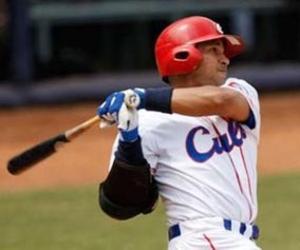 ---
United States and Cuba will fight a ticket to the final of the Pan American Games baseball Guadalajara-2011, in a game that promises to be electrifying the historic rivalry between the two novenas.
In the other semifinal, local and undefeated Mexico will play against Canada.
The 'powerhouse' of Alfonso Urquiola manager receive at 19.00 local (00.00 GMT Tuesday) at Pan American Stadium Lengths population Moreno, about 177 km northeast of Guadalajara.
Cuba Baseball Pan has 12 titles, lost only at the end of 1967, and comes to this stage of the tournament undefeated after beating Venezuela, Canada and Puerto Rico with bookmarks closed, but leaving the mark of his powerful and timely offensive, rescued the failures of their pitchers on the mound.
Indeed, the West Indian batting .369, leading the tournament with 42 hits and 22 runs, eight doubles and four home runs, followed precisely by the Americans with .347 with 34 hits and 33 runs scored.
The directed by Jay Bell fell on the last date, but before he had inflicted beatings paths of Dominican Republic and Panama 11x0 20x2.
For the semifinal, Urquiola forward yet who will be their opener on Monday, though no doubt have to shuffle names highlighted as Yadier Pedroso, Freddy Asiel and Yulieski Gonzalez.
The U.S. pitching is more solid than the Cuban. In overall numbers, the island's pitchers have an ERA of 2.25, compared to 1.17 of the Americans, who have left-hander Andrew Van Hekken leading the pitching table.
The last time both teams faced off earlier this was during the World Baseball Panama-2011, when Cuba ended up winning with difficulty with a closed 8x7.
In this exciting give and take, the ninth Cuban offensive unleashed a 17 hits, but had to face threats from the United States, he regained his usual power with 11 hits stumbled after a start, but eventually had opportunities to take the game.
The Guadalajara-2011 semifinals will begin at 19:00 GMT with the duel between the Mexican hosts - also big favorites to win the title - and Canada.
The Aztecs hide behind his relentless pitching, the best in the tournament, with 1.16 ERA, while Canadians timely sharpen their bats.
The semifinal winners will meet on Tuesdays at 19h00 local (00h00 GMT Wednesday), and bronze defined earlier, at 14h00 local (19h00 GMT).
Puerto Rico and Panama play the same Monday for the seventh and Venezuela and the Dominican Republic on Tuesday for the fifth.
---
Related News
---