Ukrainian President official visit to Cuba
Submitted by: Luis Manuel Mazorra

10 / 21 / 2011
---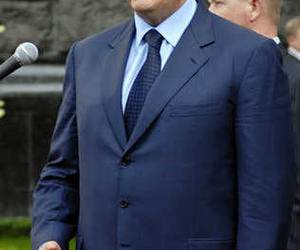 ---
President of Ukraine, Viktor Yanukovich, came to Cuba on Thursday for talks with President Raul Castro and strengthen relations between both countries, an official statement.
"The distinguished visitor will hold official talks with President Raúl Castro Ruz, President of the Councils of State and Ministers and develop other activities," said a brief article published on the front page of the official newspaper Granma.
Yanukovich, 61 years and as president since February 2010 start on Friday a round of negotiations between the two countries, whose trade amounted to $ 23.5 million in 2009, the latest official figures published.
In the afternoon, will lay a wreath at the monument to Jose Marti at the Revolution Square in Havana, and hold official talks with Raul Castro at the Palace of the Revolution.
On Saturday, Yanukovich will visit the international camp of Chernobyl program, in the resort of Tarara, 15 miles east of Havana, where children and adolescents in their country receive specialized medical care in the aftermath of the 1986 nuclear accident at the nuclear plant Soviet.
From 1990 until the end of 2010, about 26,000 Ukrainian children between 8 and 15 years were treated for thyroid cancer and skin cancer, leukemia, alopecia, psoriasis, and goiter, and are also rehabilitated engines and psychic problems.
Same time receiving care under the former Soviet republics of Russia, Belarus and Moldova.
Until 1998 Cuba covering all costs of such treatment, but since then Ukraine pays for airfare and salaries of teachers and guides Ukrainians working in the facility.
Last December the Ukrainian Foreign Minister Konstantin Grishenko, served a two-day official visit to Cuba in which he stated that there is "good potential" to improve relations in the fields of industry, medicine and tourism.
At that time, intensified political dialogue between both countries and signed an agreement intercancillerías, according to reports.
---
Related News
---