Venezuela and Russia governments agreed to expand strategic alliance
Submitted by: manso

10 / 10 / 2011
---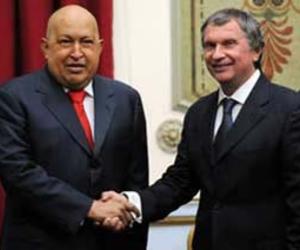 ---
Caracas, (Prensa Latina) The Venezuelan president Hugo Chavez and the Russian deputy Prime Minister, Igor Sechin met at Miraflores Palace and signed agreements on the oil and gas, finance, trade and agriculture fields.They have just decided to expand their strategic alliance which resulted in new bilateral business agreements.The reunion was held at Miraflores Palace.

The expansion of bilateral agreements included an agreement on financial and credit cooperation with a 4 billion US dollars credit granted by the Russian government in order to support the technical-military collaboration underway.

Both government accepted to increase the share capital of the Russian-Venezuelan Bank in 4 billion US dollars and committed to sign the definitive agreements at Joint Commission meeting, scheduled to be held December 6 and 7 in Moscow.

Representatives from both governments signed an act for the agreements achieved in Petro Miranda, in the Orinoco Belt; and to speed up the works at the Junin 6 Block.

A joint company was created for the plantation, production, process and exportation of banana to Russia, as well as the creation of a program aimed at taking Venezuelan flowers to Moscow.

An agreement for the evaluation of gas fields in the Gulf of Venezuela. Regarding this, Chavez proposed the Russian participation in a cooperation project on petrochemistry.

Chavez congratulated the Russian Executive for the position adopted at the United Nations Security Council, along with China; a decision that stopped Unites States and other countries intention to attack Syria.
---
Related News
---