President Chavez says he is fine
Submitted by: manso

09 / 30 / 2011
---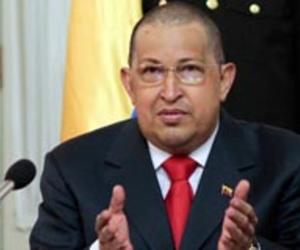 ---
By: Osmany González Tocabens. Caracas, Sep 29 (Prensa Latina) President Chavez asserted this Thursday to be in good health, and added the current phase is awkward because is cumulative, especially on his case, which took four chemotherapy cycles.

He is right now recovering from fourth preventive chemotherapy cycles after a surgery to remove a carcinogenic tumor.

The current phase also seeks to recover the physical part and undergo medical treatment, while enduring the toxicity level of the body and paying attention to leukocytes, including steroids, and also to his diet, Chavez said.

Chavez also called for the population not to listen to rumors going around about an alleged health deterioration, while denying and qualifying them as messages from psychological warfare laboratories.

On Wednesday, Chavez met for various hours with Foreign Minister Nicolas Maduro, who attended the 66th United Nations General Assembly, while reviewing some documents.

The documents include issues on the military, security, prisons, housing, and agriculture, in which he analyzes prices because, to him, this topic requires constant assessment while considering the rise in the value of foods at a global level.
---
Related News
---