Chavez completes fourth chemo treatment in Cuba
Submitted by: manso

09 / 22 / 2011
---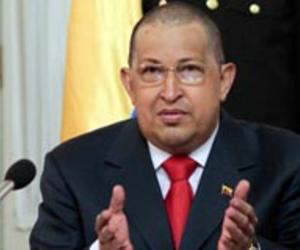 ---
AFP. Venezuelan President Hugo Chavez is feeling well after completing a fourth round of chemotherapy in Cuba, the leftwing leader said in a telephone call to supporters broadcast on state TV.

"I am finishing up here in Havana on the last day of the fourth round of chemotherapy and I hope it will be my last (round)," Chavez said Wednesday to socialist supporters who were holding an ecumenical mass for him in New York.

"I have assimilated quite well, thank God," he added.

Chavez will not be attending the UN General Assembly -- where he famously referred to then-US president George W. Bush as the "devil" in a 2006 speech -- in part because of health issues.

Chavez traveled to Cuba late Saturday for the treatment, accompanied by Bolivian President Evo Morales.

Chavez had a tumor removed on June 20 in Havana, but officials have provided little information about the type of cancer afflicting the 57-year-old or about his specific medical condition.

Officials have said the tumor was removed from his "pelvic area," but have given no indication of the severity of his condition.

Chavez has been in power since 1999 and has said he would recover in time to win re-election by a "knock-out" in 2012.

Source: http://news.yahoo.com/chavez-completes-fourth-chemo-treatment-cuba-05484...
---
Related News
---