Venezuela, Cuba defend Iran
Submitted by: manso

09 / 22 / 2011
---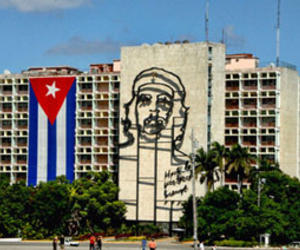 ---
AP. By GEORGE JAHN. VIENNA (AP) — Iran was praised and Israel criticized Wednesday at a 151-nation meeting, with Cuba and Venezuela defending Tehran's right to run a nuclear program and Syria saying the Jewish state's undeclared nuclear arsenal is a threat to world peace.

The two Latin American nations are among Tehran's greatest supporters and Washington's strongest detractors, depicting it as the leader of privileged nations seeking to deprive developing countries of nuclear power and other benefits.

Syria, too is at odds with the U.S, and is the most vocal Arab critic of Israel. While the West sees Tehran as the greatest nuclear threat in the Mideast, Islamic countries assert that Israel and its undeclared atomic arsenal represents the most pressing danger to the region.

Since the start of the conference Monday, Iran has borne the brunt of criticism, with Western countries condemning its refusal to heed U.N. Security Council demands to stop activities that it could turn into making nuclear weapons and to open its program to greater IAEA perusal.

But Israel is due to come under pressure later in the week from Islamic and other developing countries for refusing to declare its nuclear weapons status and because it remains outside the Nuclear Nonproliferation Treaty.

Wednesday's statements served as a prelude to the shifting focus from Iran to Israel — and hinted at the difficulties ahead come November, when Israel and its interlocutors come to the table in Vienna at an IAEA-hosted forum for preliminary talks on a Mideast nuclear arms-free zone.

Israel's "huge nuclear capabilities, which are yet to be subjected to the international control and supervision ... does not only threaten the region, but the whole world at large," Syrian Ambassador Bassam Sabbagh told the meeting. "Israel is behind the failure of all initiatives" meant to move toward the creation of a nuclear free Mideast, he added.

For more than a decade, talks on creating such a zone have been stalled by Israel's insistence that they be accompanied by moves to establish peace in the region and Arab insistence that the two issues are separate.

Syria too is under IAEA perusal, with the agency's 35-nation board reporting it to the Security Council earlier this year after IAEA chief Yukiya Amano assessed that a site bombed in 2007 by Israel warplanes was a nearly completed plutonium-producing reactor.

Syria says the building was non-nuclear. But it has stonewalled IAEA attempts to revisit the site, and Sabbagh on Wednesday accused the U.S. and its allies of "exploiting this issue for their own political agenda." Instead of pressuring Syria, Israel "should have been condemned by the international community," for the bombing, he said.

For Venezuela, Ali de Jesus Uzcategui Duque denounced "a small number of countries" — shorthand for the U.S. and its allies — for "trying to use (the U.N.) Security Council ... for their purposes" on Iran, Syria and other issues.

Iran is under four sets of Security Council Sanctions for refusing to freeze uranium enrichment, which it says it needs for reactor fuel but which can also be used to create to core of nuclear warheads. It also has refused to cooperate with an IAEA probe of intelligence-based information that it has been — or is — working on nuclear arms.

Tehran denies wanting such weapons, saying the West's real purpose is to keep the lucrative nuclear market cornered — an argument picked up Wednesday by the Venezuelan envoy.

"States have an inalienable right to develop peaceful nuclear power without any type of discrimination," he told the meeting. "Therefore we demand that threats be stopped, that groups of countries stop attacking Iran."

Juan Carlos Marsan Aquilera of Cuba also criticized the "club of privileged members that develop and refine the nuclear stockpiles."

Paradoxically, he said, "this club tries to forbid the use of the inalienable right to nuclear energy to countries of the south."

Source: http://news.yahoo.com/venezuela-cuba-defend-iran-165310063.html;_ylt=AqI...
---
Related News
---