Cuban Appeal in IAAF World Championships Turned Down
Submitted by: manso

08 / 29 / 2011
---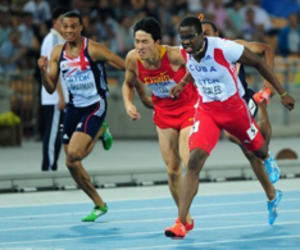 ---
By: Osmany González Tocabens.13:47Daegu, South Korea, Aug 29 (Prensa Latina) The International Association of Athletics Federations (IAAF) on Monday rejected an appeal submitted by Cuba, after the disqualification of Cuban hurdler Dayron Robles in the event''s final at the World Championships.

According to the IAAF, Robles was disqualified for obstruction by the track referee who based his decision on article 163.2 of the IAAF rules.

The Chinese team lodged a protest arguing Robles had obstructed Liu Xiang, by touching his hands, which caused the Chinese to lose his pace in the closing meters and thus finishing in third place.

Santiago Antunez, coach of Robles who is the world recordman and Olympic champion, told the press the incident did not merit a disqualification.

"I've been for a long time in athletics, particularly in the hurdlers event, and it's very difficult that there's no contact during the race. Dayron has had contacts; Liu, too; all hurdlers every now and then make contact in any way while running", insisted Antunez.

The Cuban had won the race timing 13.14 seconds. Liu placed third with 13.27, then, the IAAF later disqualified the Caribbean competitor.

"I really expected to make a better race because I had the world's best competitors in the 110 mt hurdle event participating in the race, but I and Liu Xiang inadvertenly collided slightly between the ninth and tenth hurdle, and I did not expected...", said the Cuban runner.

After Robles' disqualification, the title was awarded to US hurdler Jason Richardson (13.16 sec), and the silver medal to Liu.
---
Related News
---