Mexico, Brazil Review Bilateral Cooperation
Submitted by: manso

08 / 29 / 2011
---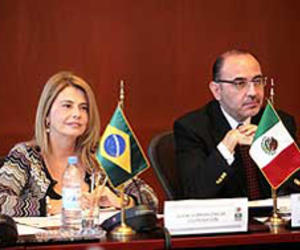 ---
By. Raquel Maria Garcia Alvarez.00:09México, Aug 28 (Prensa Latina) Authorities from Mexico and Brazil met in this capital to assess their cooperation activities for 2009-2011 and discuss those to be carried out in the next two years.

The meeting was held on August 22-26, the Mexican Foreign Ministry informed in a communique.

Results of concluded projects were termed positive, based on intense, mutually beneficial cooperation, mainly in the fields of agriculture, health, education and hydraulic engineering.

At least ten new initiatives of common interest were identified to be complemented by new projects that will be negotiated in October in Brazil.

The parties considered the possibility to carry out three-party programs with other Latin American countries.

The talks were presided over by Director General of Technical, Scientific Cooperation of the Foreign Ministry of Mexico, Octavio Tripp, and Head of the Foreign Cooperation Agency Marco Farani (Brazil).
---
Related News
---