LatAm Trade Unions Coordinate Strategies in Nicaragua
Submitted by: manso

08 / 28 / 2011
---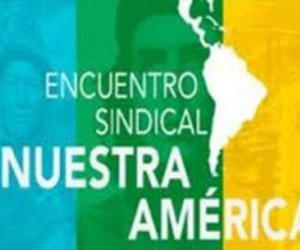 ---
By: Raquel Maria Garcia Alvarez.Managua, Aug 27 (Prensa Latina) More than 130 Latin American trade union organizations will close a meeting in Nicaragua aimed at coordinating common efforts in defense of workers and for the construction of anti-neoliberal alternatives.

Participants in the 4th Trade Union Meeting or Our America (ESNA), held at the National Engineering University, expressed their will to use their organizational and mobilization capacity to contribute to ongoing social changes in the region.

"We cannot let small things to divide us," said coordinator of the National Workers Front (FNT) of Nicaragua, Gustavo Porras.

He said that the Sandinista revolution is going through its second phase and union members will continue promoting all transformations needed to benefit the majorities in a Christian, socialist project of national unity with solidarity.

General Coordinator of the 4th ESNA, Uruguayan Juan Castillo, said that the alternative is to build Socialism, without dogmas or copying others; each people should choose their path, aware that unity is the most important tool in our hands.

General Secretary of the Workers' Central Union of Cuba, Salvador Valdes Mesa appreciated the continental solidarity in the struggle for the release Gerardo Hernandez, Ramon Labanino, Rene Gonzalez, Antonio Guerrero and Fernando Gonzalez, The Cuban Five anti-terrorist unfairly held in US prisons.

Prominent figures like Nicaraguan Foreign Minister, Father Miguel d'Escoto, and Commander of the Revolution Tomas Borge, attended this solidarity forum.

Participants also included Cuban Ambassador Eduardo Martinez Borbonet and Irma Shewerert, the mother of Cuban anti-terrorist fighter Rene Gonzalez.
---
Related News
---