Venezuelans worry over high inflation
Submitted by: manso

08 / 12 / 2011
---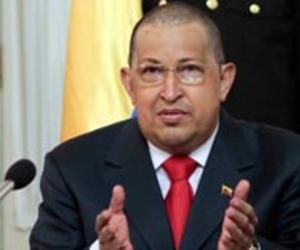 ---
Published: Aug. 11, 2011 at 5:43 PM. CARACAS, Venezuela, Aug. 11 (UPI) -- As Venezuelan President Hugo Chavez undergoes cancer treatment in Cuba, the national economy's management he left in the hands of his trusted stewards is proving to be another test of nerves for economists, investors and ordinary consumers alike.

With little sign of a two-year recession dissipating in response to consumer demand, official data indicated Venezuela's price index rose 2.7 percent in July for a cumulative 25.1 percent in 12 months.

Drought and electricity and water shortages have taken a toll on Venezuela's economic performance from 2009 onward, making it the only Latin American country to suffer two years in succession of recession. Revenue from Venezuela's oil exports hasn't been enough to stimulate the economy.

The economy's partial stagnation was reflected in the housing services' performance, which dropped during the period, and in the slow growth of the communication sector, usually an indicator of economic activity.

Chavez has been receiving treatment for cancer since June but has ceded only a few presidential responsibilities to trusted aides, keeping close watch on decision-making and on approving items of budget spending.

The president had a large tumor removed by doctors in Cuba in June, followed by a round of chemotherapy in July. Despite overwhelming support for Chavez in the National Assembly and outside it, there have been rumblings of dissent over his preference for keeping nearly all presidential powers for himself rather than delegating responsibilities to aides.

There was little indication in the official media if the government intends to deal with the inflationary spiral while Chavez is in Cuba.

The increase in consumer prices in Venezuela for the first seven months of the year stands at 16 percent, below the 18 percent for the same period of 2010 but the inflation figure for the 12-month period has reached 25.1 percent, the highest in Latin America, official data indicated.

Food and beverage prices reported the strongest increase with 4.8 percent, a result of price liberalization after many years of heavy subsidies that kept the prices low as part of the populist president's tireless campaign to win over friends, analysts said.

Chavez has indicated he intends to run again in next year's presidential election to seek a further six-year term.

However, despite Venezuela's oil earnings, the countrywide income disparities showed economic activity made little impact on reducing poverty or easing the burden of rising food prices on more than 70 percent of the population.

A series of nationalizations, popularized as part of the government's effort to redistribute wealth among the poor, have had the effect of damaging industrial performance and stagnating growth in many sectors of the economy, analysts said.

Source: www.upi.com/Top_News/Special/2011/08/11/Venezuelans-worry-over-high-infl...
---
Related News
---