US issuing licenses for increased Cuba travel
Submitted by: manso

07 / 02 / 2011
---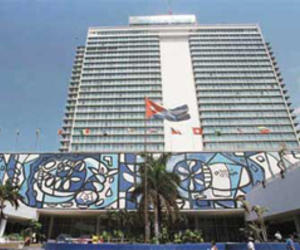 ---
Peter Orsi, Associated Press, On Friday July 1, 2011, 1:28 pm EDT. HAVANA (AP) -- Washington has begun issuing travel licenses that promise to bring thousands more U.S. visitors each year on legal trips to Cuba, just 90 miles off Florida but off-limits to most Americans.

Nine tour operators have been granted licenses to run so-called people-to-people exchanges since May, said a U.S. Treasury Department spokesperson who was not authorized to be quoted by name on the matter.

The spokesperson declined to comment Friday on how many applications have been filed, were rejected or are still under consideration, but said Treasury has been receiving an average of 10 applications each week since new guidelines were published in April, and officials are working to review them.

The spokesperson also would not identify companies that have been approved, citing department rules against discussing individual cases.

However a handful of organizations confirm that they have received permission, and one company that got its license Tuesday is already booking four inaugural trips for Aug. 11, with space for 100 people.

"We immediately went into launch mode, which was what we were preparing for quite some time," said Tom Popper, director of Insight Cuba, which operated people-to-people trips from 2000 until they were canceled by the George W. Bush administration after 2003. "It was a great first day. We were actually registering participants within three hours of bringing up the website."

Insight Cuba expects to run about 130 trips a year to the island and take 5,000-7,000 people, Popper said.

Other groups have more modest plans, but with dozens of operators seeking licenses, industry experts expect a return to the levels of 2000-2003, when tens of thousands traveled on people-to-people licenses annually.

Even before the relaxed guidelines, about 63,000 Americans traveled to the island in 2010, according to Cuban statistics published last week. That figure, a 20 percent increase over the previous year, includes both visitors on approved trips and those who slipped in through Canada or Mexico. It does not include the hundreds of thousands of Cubans living in the U.S. who come home to visit family each year.

The people-to-people initiative restores rules established by the Clinton administration on the theory that American visitors put a human face on the United States, which is continually criticized by the Cuban government and official media.

Opponents of the policy say it is tantamount to propping up President Raul Castro and his brother Fidel. The trips are thinly veiled tourism, they say, a kind of end-run around the decades-old economic embargo that aims to weaken the Cuban government and pressure for political change.

One of those critics, Cuban-American Rep. Mario Diaz-Balart of Florida, recently attached an amendment to a Treasury funding bill that seeks to restore tough limits on remittances and travel to the island imposed by President George W. Bush and relaxed under Obama.

The Treasury Department requires that people-to-people licensees demonstrate itineraries packed with meaningful cultural exchanges, and vow to weed out anyone would offer spring break-type packages.

But just about any trip will offer opportunities to sip a mojito at a nightclub or savor an after-dinner stogie in between visits to orphanages and sustainable farms.

Early confirmed licensees include the Harvard Alumni Association and Learning in Retirement, which is affiliated with the University of Wisconsin-La Crosse and plans an eight-day, $4,300 Santiago-to-Havana tour for next spring.

"The major benefit is developing new awarenesses, destroying some of the myths that people might have about Cuba and Cubans," said Burt Altman, a retired education professor who obtained the license for Learning in Retirement and is organizing the trip. "Most people who go to Cuba, frankly, are curious, and they come back with a different attitude."

Malia Everette, director of reality tours for San Francisco-based Global Exchange, said the nonprofit is awaiting word on its application. A people-to-people license would let Global Exchange make a fourfold increase in trips it already operates under a separate authorization by expanding who is eligible, she said.

"For example it enables people to travel with their partners," Everette said. "And Cuba's a very safe place to send high school groups. I already have a number of high schools that want to go."

Source: http://finance.yahoo.com/news/US-issuing-licenses-for-apf-3795559089.htm...
---
Related News
---