Spanish NGO Awards Cuban Doctors in Haiti
Submitted by: manso

02 / 28 / 2011
---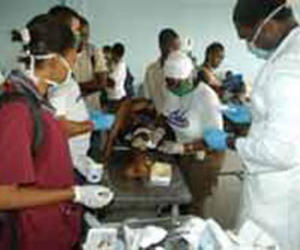 ---
Madrid, Feb 28 (Prensa Latina) The Francisco Saenz Porres Civic Forum in Logroño, capital of the Spanish autonomous community of La Rioja, acknowledged the humanitarian work carried out by Cuban doctors in Haiti over the past 12 years.

The non-governmental organization granted its 10th Justice and Solidarity Award to the Cuban physicians who were working in Haiti when an earthquake shook that country in 2010, continued working after the disaster, and are now fighting a cholera epidemic.

According to the Civic Forum, the annual award of which is granted to people or groups of people who excel for their work in the fields of solidarity and human rights, Cuba's gesture is one of the greatest acts of justice toward other people.

Forum spokeswoman Blanca Castillo noted that Cuba's medical brigades "are working quietly" in catastrophes or emergency situations in several countries, including Pakistan, Guatemala and Venezuela.

On this occasion, the award is justified, because the Cuban doctors have been present in emergency situations, both before and after the earthquake and today they are working in that impoverished Caribbean country to fight cholera, she added.

It has been a praiseworthy, silent and real work that deserves this acknowledgement, Castillo stressed during the awards ceremony, attended by Cuban Ambassador Alejandro Gonzalez.

After expressing gratitude for the award, Gonzalez noted that it was Cuba's duty to cooperate with other peoples in the world, particularly in poor countries.

"Although we are a poor nation, we share what we have, especially medical resources," the diplomat said.

Also present at the awards ceremony were the delegate of the Central Government of La Rioja, the mayor of Logroño and several council people from that region, among other officials.
---
Related News
---