Will baseball return to the Olympic Games in 2020?
Submitted by: manso

02 / 11 / 2011
---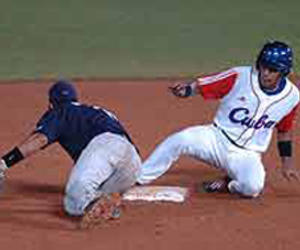 ---
2011.02.10 - 14:49:13 / radiorebelde.Will baseball return to the Olympic Games in 2020? Havana, Cuba.- The executive committee of the International Baseball Federation met last January 29 in the Cuban capital, where Panama was appointed host of the next world championship.
It was informed that 16 teams will compete in the tournament scheduled for the last week of September and first of October. For the first time ever, the people of the Canal will enjoy such privilege. The games will be played at the "Rod Carew" stadium, in Panama City; the "Cedeño" ballpark, in Herrera City, and the "Omar Torrijos" stadium, in Veraguas.
Riccardo Fraccari, president of IBAF, commented on the future of the world championships. He said "everything is subject to what happens" with the agreement they want to reach with the Big Leagues before May. However, he didn't omit the fact that the Panama tournament "could be" the last.
We are very much worried about the international course of baseball, because IBAF could possibly fall under the control of the Big Leagues Organization. That is to say in the hands of Mr. Money.
The so-called Intercontinental Cup was closed for good after last year tournament in Taipei. Now, the World Championship in Panama could seemingly be the last one too. Consequently, US baseball would be in control of the only world tournament of national teams, the so-called Classic.
We'd love to be wrong, but we don't believe that the Big Leagues will do anything for the return of baseball to the Olympic Games program. IBAF claims to seek the readmission of that sport in the heart of the IOC for the 2020 games, after missing London 2012 and Rio de Janeiro 2016. However, it is about to lose its highest competition, because the Yankees will take control of that instance.
The International Olympic Committee excluded baseball from its program because it couldn't have most of the best players in its tournaments. The Big Leagues refused to give them permission, because its calendar lasts from April to October and they would not stop it for anything or anybody.
Now, that organization seems to be the only one in control of the competitions at the highest level. As we already explained, it intends to get rid of the world championship and already obliterated the Intercontinental Cup. Then, when they have absolute monopoly over baseball, will they care about baseball returning to the Olympic Games? We don't think so .
We believe that baseball should stop giving up its top level competitions. Nevertheless, some IBAF executives do not seem to share this view.
Deep down in my heart, I would love to be very wrong, because we feel that the Big Leagues will end up taking full control of baseball and the decision-makers in US national championship are hardly reliable.

By Diego Mendez

Source: Radio Rebelde
---
Related News
---