Plane crash near Sancti Spiritus: 68 passengers traveling
Submitted by: admin

11 / 05 / 2010
---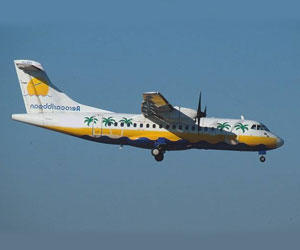 ---
Plane crash occurred shortly before six o'clock Thursday afternoon near the city of Sancti Spiritus in central Cuba.

This is a passenger plane Aerocaribbean on Flight 883, en route to Santiago de Cuba to Havana.

In the aircraft traveled 61 passengers and 7 crew, of which 40 Cubans and 28 foreigners. According to TV News, in future editions will expand the information, including the names of the passengers.

The plane took off from Santiago de Cuba at 4.45 pm (local time) and had to get to destination an hour and fifty minutes later.

In a note read at the National Television News, the Civil Aeronautics Institute of Cuba reported that at approximately 17:42 hours today, an aircraft ATR-72-212, the Cuban airline Aerocaribbean SA., Which en route from Santiago de Cuba and Havana reported an emergency, losing contact with air traffic towers.

Information was known by local authorities, the ship crashed to the ground in the region of Guasimal, in the province of Sancti Spiritus.

At present, the aeronautical authorities of the territory and are specifying the details of it and created a commission for the investigation of this unfortunate accident.

According to the newspaper Escambray, Sancti Spiritus, as soon as he heard the incident, medical emergency services and the main authorities of the territory moved to the scene to assess damage and initiate appropriate emergency measures.

Spiritus health facilities are ready to provide the required services, if necessary.

The accident occurred in the vicinity of rural communities and Guasimal Wall, located about 15 kilometers from the provincial capital Spiritus and relatively close to the Zaza dam, the largest reservoir of Cuba.

The ATR 72 is a commercial aircraft powered by two turboprop engines for regional travel and short trips built in France and Italy by ATR (Avions de Transport Régional). Has been developed from the ATR 42.

The ATR 72 has a maximum capacity of 74 seats and is manned by two people.
---
Related News
---