Cuba edge tough Thais in three
Submitted by: manso

11 / 02 / 2010
---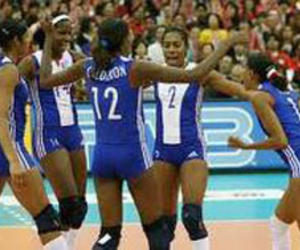 ---
Cuba had to fight hard to overcome tough resistance by Thailand in a Group C match at the World Championship in Matsumoto, but ran out 3-0 winners (25-19, 29-27, 27-25) to pick up their second win of the tournament. Both teams are now 2-2.

The Cubans were particularly strong at the net where they outblocked their Asian opponents 13-3.

The Cuban tandem of Yoana Palacios and Kenia Carcaces proved to be too much for the Thais at least for tonight as they scored 19 and 17 points respectively with each of them recording two blocks and two aces. Rachel Sanchez contributed 11 tallies.

Pleumjit Thinkaow topped Thailand with 12 points while Wilavan Apinyapong and Kamonporn Sukmak notched 11 and 10 respectively.
Thailand started the match strongly with Pleumjit Thinkaow blocking Yoana Palacios and then making a strong spike as her team moved into a three-point lead, backed by some typically tough Thai defense. But the Cubans started blocking well and they were level at 7-7. Cuba had a setback when Rachel Sanchez was taken off injured at 9-9, but Palacios started to find her spiking and serving range and the Thais were having trouble blocking. The Thais weren't serving well either and a netted shot by ace Onuma Sittirak saw the Cubans gain a three-point advantage at the second technical timeout – and it didn't get any better for the Thais. A receiving error, a double touch and a netted spike helped the Cubans, and a vicious service ace by Palacios brought up setpoint. Thailand's substitute setter Kamonporn Sukmak was then penalised for a double touch and Cuba was a set ahead.

The Thais regrouped to start the second set and Sittirak got things moving with a devastating blast and an unreturnable serve, and Thailand were soon three points ahead. But with Sanchez back, the Cubans were also able to get back into their stride. Ana Lidia Cleger came up with a spike and a block on Thai captain Wilavan Apinyapong and a bomb by Kenia Carcaces brought the scores level at 12. Yusidey Silie sent down a good spike and made a great block on Sittirak, as Cuba headed for a one-point advantage at the second technical timeout, but there wasn't more than a point in it from 11-10 until the final point of the set. Carcaces started to land some big blows coming down the stretch, but Amporn Hyapha responded well for Thailand. Two huge hits by Carcaces saved setpoints, but Carcaces earned another setpoint for Cuba at 28-27. Silie then blocked Apinyapong to put Cuba 2-0 up.

For the third set in a row, the Thais got off to a good start, thanks in part to wayward hits by Silie and Cleger. Carcaces came up with a gigantic blow and huge block on Kanthong, but Thinkaow produced a typically quick spike from a short set by Nootsara Tomkom and Kanthong made a fine service ace. A brilliant spike by Apinyapong from a difficult position put the Thais ahead at 7-6 and the scores stayed close to 10-10. Cuba then pulled away thanks to a huge hit by Palacios, and a block and spike by Carcaces. Back came the Thais, led by captain Apinyapong, who came up with four intelligent scores on the way to Thailand drawing level again at 16-16. There wasn't more than a point between the two teams from 15-14 to 24-23, when Sanchez earned matchpoint. But the Thais drew level again on another short-set combination between Thinaow and Tomkom, and the pair repeated the trick to make the score 25-25. But the Thais were unable to handle two spikes by Palacios that ended that match.

Source: Web FIVB
---
Related News
---