Restoration of the Jagua Castle, National monument
Submitted by: manso

09 / 25 / 2010
---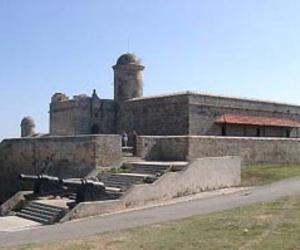 ---
09/25/2010.The work of one brigade of the Contingent 5 of September, from the Ministry of Construction, is transforming the Fortress of Nuestra Señora de los Ángeles de Jagua, where the old entering bridge, with over 250 years old of existence, receives a new platform.

The Jagua Castle, in south centre of Cuba, was built to defend the bay from pirates. It is the third most important of the country and the only one in the centre of the island and changes the image to the Cuban and foreign visitors through the pieces built during the construction.

Marisol Otero, director of the Museum, explained that they have never carried out such a complex actions as the one required in the reparation of the fixed and the moving bridge and at the door which gives access to the Arms Square using imported precious wood in the carpentry.

Marisol specified that "they restore the balconies and other places and work in the preservation of the museum pieces, mainly in the arms collection. They also eliminated the rust from the big cannons, located in the main entrance of the Castle".

At the end of current year they will finish the reparation and maintenance in order to keep showing the renaissance architecture, with the architectonic characteristics of the Middle Age in the Fortress built in 1745 by the French engineer Joseph Tantete.

The castle is the only Spanish military enclave from the end of XVIII century in Cuba, it is located at the entrance of the Jagua Bay and in the National Patrimony Council, together with the Provincial government are taking part in the reparation of it, which they are carrying out while the visitors can still visit the National Monument.

The ancient fortress is one of the identity symbols of Cienfuegos and its name is a Cuban symbiosis of the Spanish saint calendar and the extinguished aboriginal voice, but with the mark in many local patronymic.

It is a strong stone construction, of cubic structure, with two levels and a raising bridge as well as a vaulted cabin which follows the stile of the French engineer Sebastian Le Pestre, who created a system of fortress known as Vauban – in honor of his status of sir – related with the landscape, the topography and the geometric forms.

During the XVIII century, the Jagua Castle stopped the filibustering of Francis Drake, Jacques de Sores, Guillermo Bruce, Juan Morgan, Lorenzo Craff and other terrible "sea wolfs" who pretended to benefit with the richness of the islands.
The fortress had an important place in the Cuban history. In 1762 it was the seat of the Spanish military command, during the brief English occupation of the country.

Today, yesterday guard is lowering the bridge to those interested in knowing how and who we were.

By: Mireya Ojeda Cabrera

Source: Cubarte
---
Related News
---