Cuba indicates it will free all its political prisoners
Submitted by: admin

07 / 26 / 2010
---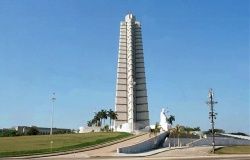 Prisoners will be free to stay in Cuba or emigrate, say authorities.

After releasing 15 dissidents earlier this month, Cuban authorities have signalled that they will free several more.

Senior officials said the recent release of 15 prisoners would be followed by dozens more and the dissidents would be free to stay, should they wish, or they could emigrate.

The announcement was followed by another public appearance by Fidel Castro, who yesterday attended a ceremony honouring comrades killed at the outset of his revolution over half a century ago.

The 83-year-old former president wore an olive-green shirt and state media referred to him as "commander in chief."
His return to the limelight has coincided with the recent prisoner releases, part of a Vatican-brokered deal in which the cuban government promised to free 52 of 75 detainees jailed in a 2003.

Last week the head of Cuba's parliament, Ricardo Alarcon, went further and said it was the government's wish "to free all the people" on condition they had not been accused of murder.

Speaking on the sidelines of a conference in Switzerland, he said the released men would not be forced into exile. "In Cuba there are people who have been freed from prison several years ago and who stayed in their homes. As in this case."

Western diplomats in Havana said authorities were taking brave, pragmatic steps.

The releases – and promise of more to come – altered the political landscape, said Michael Shifter, head of the Inter-American Dialogue thinktank.

Over the weekend a group of artists and intellectuals probed the boundaries of official tolerance with an unauthorised three-day meeting in Havana to debate Cuba's future.

Rory Carroll, Latin America correspondent guardian.co.uk,
Sunday 25 July 2010 16.37 BST

http://www.guardian.co.uk/
---
Related News
---