Finance leader expects "boom" once U.S. investment flows
Submitted by: admin

07 / 22 / 2010
---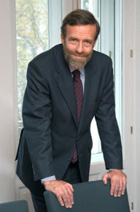 Thanks to its human capital and natural resources, Cuba will experience a "boom" and become a "center of commerce" once U.S. companies begin to invest on the island, a Spanish finance leader said during a conference Wednesday.

U.S. companies have "immense interest" in Cuba, and they are "all against" U.S. embargo restrictions, said Guillermo de la Dehesa, a director of Banco Santander, during a Latin America conference in Santander, according to efe.

De la Dehesa is also an international advisor of Goldman Sachs, member of the Washington-based Group of 30, and former economy minister of Spain.

He said during a press conference that once foreign investment fully flows to Cuba, the island will "return to be a center of commerce," because its human capital and natural resources aren't well used right now. "If physical capital enters, it'll be a boom with the human capital," he said.

Carlos Solchaga, also a former economic minister of Spain, said during the conference that he expects the economic reform process in Cuba to accelerate. "It would be crazy" and "ridiculous" for Cuba to return real estate to their pre-revolutionary owners, Solchaga said. However, the government should recognize the rights of previous owners and pay some type of compensation.

Source: www.cubastandard.com/
---
Related News
---