Haitian President hails Cuban support
Submitted by: admin

07 / 05 / 2010
---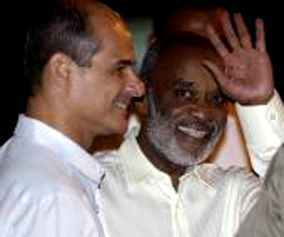 CUBA: Haitian President Rene Preval, who is on a working visit to Cuba described as excellent Cuba's cooperation with his country, seriously damaged by an earthquake January 12, 2010.

The Cubans did not wait for the earth tremor to offer their help. They were already working along with us long before, Preval told reporters after meeting with Cuban Vice President Esteban Lazo.

Cuba's cooperation began in 1998, after Hurricane George hit Haiti.

The cyclone killed more than 220,000 people, wounded more than 300,000 and left nearly 500,000 victims.

Preval told Prensa Latina that his fellow countrymen think Cuban physicians are extremely important and they come after God.
That criterion, he said, shows that the Cuban medical personnel is part of a collaboration that has spread to education, agriculture, construction, fishing, aeronautics and the sugar industry.

Preval also lauded Venezuela's financial support to develop several three-party programs, especially in the fields of public health, where a dozen Integral Diagnostic Centers will be built.

The Haitian President pointed out that after the earthquake, Haiti received many promises of aid from the New York, the headquarters of the United Nations.

However, he has never forgotten Cuba's cooperation. Our efforts are aimed at strengthening ties between Havana and Port-au-Prince, which undoubtedly benefit Haitians more than Cubans, he stressed.

Nevertheless, he added, the internationalism of the Cuban Government and people does not demand benefits. It is unconditional with the needy.


Havana, Prensa Latina
---
Related News
---