Chicago in Havana: Razzle Dazzle
Submitted by: admin

07 / 05 / 2010
---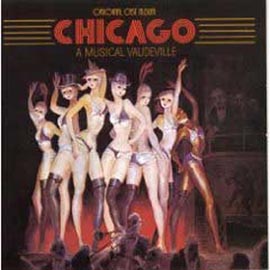 Chicago in Havana: Razzle Dazzle. Mefisto Teatro comes back to call those faithful to music theater with the announcement of its coming premiere.

After they offered their own perspective of Cabaret, Huevos and Plácido , they now retake a script to which they gave music and lyrics of songs by the famous duet of Kander and Ebb to please an idea that the genius of Bob Fosse placed in stage in Broadway in 1975.

Inspired in a theater piece from 1926, the history of Roxie Hart (a girl who hopes to become a star of show business) and Velma Kelly (a singer with little talent but much will and ruthlessness), narrates how they both managed, through dirty business and making agreements with the dirty lawyer Billy Flynn, not just to escape prison, but also to succeed in the most demanding stages.

The musical, when it was premiered, did not win the success people hoped for it, according to the level of expectation that comes from putting together once again the composers and choreographers who had managed to win much applause with Cabaret and important proposals such as Liza from A to Z.

Maybe, it didn't help much that its debut coincided with that of A chorus line, which won for consecutive years in the New York theater programs. Or maybe, the tone was way too dark for the time, reflected Jerry Orbach, one of the actors of the original cast.

The truth was that after a clamorous revival in 1996, the unstoppable cynisism, the will to succeed of these characters that are apparently free from any moral tone, achieved what it didn't seem possible in its premiere. There is no theater capital to be respected in the world that has not a version of this piece that reaches now Havana.

As it happened with Cabaret, Tony Díaz advertises that as a director he is not interested in repeating what the movie version in 2002 spread all over the world.
He wants to get away from what Rob Marshall and Bill Condon contributed as director and scriptwriter of the award winner movie version, which confirmed together with Moulin Rouge the rebirth of the genre, before it was hit by sad pushbacks more recently such as Nine, during last year.

He is accompanied in this Cuban version by actors who have participated in their approach to the very demanding genre and others who, as guests, are trying to bring their own color to their characters.
Together with veterans such as Carlos Pérez Peña there will be on stage Araina Begue, Maylí Hernández, Yaití Ruiz, Enrique Estévez, Frank Eguskiza, Geslial Suárez and Raysel Cruz. Choreography will be in charge of Iván Tenorio, wardrobe design by Meyling Álvarez and musical direction will be the responsability of Efraín Ríos.

Chicago will come on stage soon in Havana. It will be used to meet with human actitudes that go from Mr. Celofán mad invisible by his scarce presence to the almost ever present malice of Mama Morton.

Mefisto Teatro plays three times to let us know that any of us may be the victim of a fraud. And that it has also sometimes the magic of musical theater. And even to make us applaud for a while.

Translation: Karen López (Cubarte)

Source: Entretelones
---
Related News
---