Cuba, Haiti to boost cooperation
Submitted by: admin

07 / 03 / 2010
---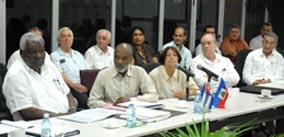 Friday, July 02, 2010 10:47 PM.HAVANA, Jul. 2, 2010 (Xinhua News Agency) -- Haitian President Rene Preval started a three-day working visit to Cuba on Thursday night to boost bilateral collaboration.

Since more than a decade ago, Cuba started providing medical services to Haiti and offered strong medical support after the devastating earthquake hit Haiti on Jan. 12.

Preval will stay in Cuba until Sunday. He will then travel to Jamaica and Venezuela.

Source: http://newsystocks.com/news/3578025
---
Related News
---