Chinese Folkloric Musical Group Performed in Havana
---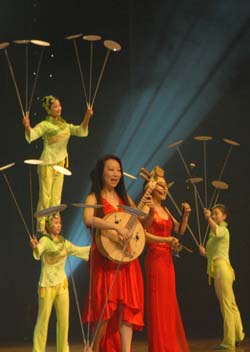 HAVANA, Cuba, Jul 2 (acn) The Folkloric Music Group of the Traditional Orchestra of Aihua de Shenzhen made a masterly performance on Thursday at the Covarrubias hall of Havana's National Theater.

The presentation was the preface for the 10th Festival of Chinese Culture in Cuba beginning July 17 and 18 at the ExpoCuba exhibition center to mark the 50 anniversary of diplomatic relations between the two countries.

The Chinese artists blew the Cuban audience away with their virtuous performance of instruments that are up to 2,000 years old and are part of the culture of the 56 ethnic groups that make up the Asian nation.

A highlight was Jin Renbo's interpretation of the Sheng, an ancient wind instrument that produces surprising warbling sounds, which are not familiar to the western ear.

Zhang Lei, with his Erhu, a sort of Chinese two-string violin, and the young woman Huang Mei, who plays the Zheng, a kind of 21-string harp played horizontally on the floor also received an ovation from the audience.

Barely 15 years old, Wang Xiao played the flute like a true experienced maestro on a par with his colleagues all of whom graduated from prestigious Chinese academies.

Present in the theater were China's ambassador to Cuba Liu Yuqin and other members of the diplomatic mission in Havana.

Source. ACN
---
Related News
---