Gazprom eyes Iran, Cuba oil projects
Submitted by: admin

06 / 30 / 2010
---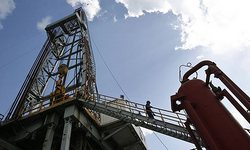 Gazprom Neft, the oil arm of Russian energy firm Gazprom, is looking to expand its foreign operations into oil-rich Iran and Cuba in defiance of sanctions slapped on both nations.

Gazprom Neft deputy head Boris Zilbermints said the company was keen to conclude preliminary talks to develop the Anran oilfield in Iran by the end of the summer, reported Reuters.

Last November, Gazprom Neft, Russia's fifth-largest oil producer, signed a memorandum of understanding with the National Iranian Oil Company (NIOC) to study the development of another two Iranian oilfields, Azar and Shangule.

The company is actively seeking to increase its resource base to meet an ambitious oil output goal of 100,000 million tonnes a year by 2020, up from around 60,000 million, added Reuters.

"Gazprom Neft wants to join Petronas project in Cuba," Head of the company Alexander Dyukov was quoted by Reuters as saying.

Cuba estimates it has 20 billion barrels of oil-abundant in its section of the Gulf of Mexico that abuts the oil-rich U.S. and Mexican zones of the gulf.

Gazprom Neft also owns a 20% stake in a consortium with other Russian producers to develop hydrocarbon deposits in Venezuela.

On Friday, the company signed a production sharing agreement (PSA) for two oil offshore blocks in Equatorial Guinea, the latest country into which the firm has expanded its activity, pledging $3 billion in investments.

Source: www.presstv.ir/
---
Related News
---