Cuba - The World's Old Car Haven
Submitted by: admin

06 / 30 / 2010
---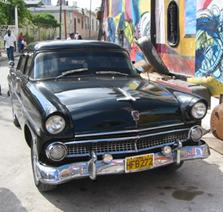 American cars from the 40's and 50's dominate the Cuban landscape.  These cars have served over 50 years in many cases as taxi cabs and daily drivers with no signs of stopping.  

It is estimated that 60,000 pre-1960 automobiles still travel the streets of Cuba. 
About 150,000 existed at the time of the 1959 revolution, shortly after which the Detroit auto giants and all American manufacturers were forced to stop sending goods to Cuba to conform to the United States' embargo.

There are no swap meets in Cuba, no antique car parts catalogs to browse thru and order from.  Simply, parts are hard to come by.   

But owners become creative when backed into a corner and this creativity keeps many of these classic American cars on the road.  

Perhaps Havana is the king of 'backyard mechanics' as some of the owner's shown in the video find ways to keep their old cars running - would you believe a Japanese diesel engine in a '57 Chevy convertible?


'57 Chevy along with many other classic American cars on the island that are not collected and shown off continue to provide transportation as they were originally designed to do.


Source: The Examiner.com

---
Related News
---