Cuba and Puerto Rico: Example of Unbreakable Friendship
Submitted by: admin

06 / 25 / 2010
---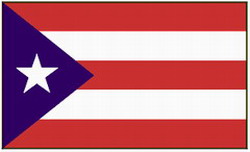 Thursday, 24 June 2010 09:43. HAVANA, Cuba.- The 19th Juan Ruis Rivera Solidarity Brigade from Puerto Rico is currently visiting the island and is staying at the Julio Antonio Mella International Camp on the outskirts of Havana where they will do voluntary work in the agricultural sector.

The brigadists will also visit places of economic, cultural and social interests and will get a first-hand look at the reality on the island in addition to meeting with representatives of grassroots, political and student organizations.

This Puerto Rican solidarity organization continues to strengthen their work in favor of the release of the five Cuban political prisoners incarcerated in the US for fighting terrorism.

Fernando González, Ramón Labañino, Antonio Guerrero, Gerardo Hernández and René González are serving long unjust prison terms for having infiltrated extreme right wing groups based in southern Florida in an attempt to stop terrorist activities against the Cuban people.

The visit of the 19th contingent of the Juan Ruis Rivera Brigade coincides with the recent approval of a UN resolution reaffirming the inalienable right of the Puerto Rican people to self determination and independence in compliance with the General Assembly Resolution 1514 (XV).

The document was presented by Cuba, Bolivia, Ecuador, Nicaragua and Venezuela, and analyzed by the Special Committee in charge of examining the situation regarding the application of the Declaration in granting the independence of colonial nations and people.

The Cuban representation declared that there are currently a total of 29 resolutions and decisions on the issue of Puerto Rico adopted by the Special Committee during almost 40 years.

The approval of this Resolution is very important, stressed the Cuban delegation, due to this year´s commemoration of the 50th anniversary of the emblematic Resolution 1514 (XV) of the General Assembly and also the 112th anniversary of the US intervention of Puerto Rico.

Source: ACN
---
Related News
---