Cuba to celebrate national day next to Che Guevara's grave
Submitted by: admin

06 / 21 / 2010
---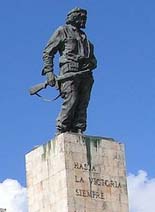 Cuba will celebrate its national holiday on July 26 in the city of Santa Clara, next to the mausoleum dedicated to the legendary Argentine-Cuban guerrilla Ernesto Che Guevara, the official daily Granma reported Saturday.

Santa Clara is the capital city of the Villa Clara province in the center of the island and the province was selected to host the event because of its socio-economic development.

The Day of National Rebellion on July 26 is the island's biggest holiday each year.
Since the triumph of the Cuban Revolution, the island state has been led first by Fidel Castro and afterwards by his brother Raul, the current president.

The day marks the assault led by Fidel Castro on the Moncada Barracks in Santiago de Cuba on July 26, 1953.

The attack was a failure, and Castro and other assailants ended up in jail, but it is remembered as the beginning of the armed struggle against the regime of dictator Fulgencio Batista, finally overthrown by Fidel Castro and his followers on Jan. 1, 1959.


Source: Xinhua

---
Related News
---