Cuba and the Vatican celebrate the 75th anniversary of uninterrupted diplomacy
Submitted by: admin

06 / 18 / 2010
---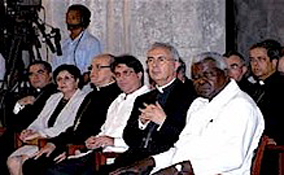 Respect and cordiality were highlighted last night at the concert commemorating 75 years of diplomatic links between Cuba and the Holy See.
The event was attended by Vice President Esteban Lazo Hernández and Monsignor Dominique Mamberti, Vatican Cuba: Optimism on Vatican Talks

"La Misa Cubana" by José María Vitier highlighted the musical evening, which was also attended by Foreign Minister Bruno Rodríguez Parrilla; Cardinal Jaime Ortega Alamino, archbishop of Havana; Monsignor Giovanni Angelo Becciu, the apostolic nuncio; and Caridad Diego Bello, director of the Religious Affairs Office of the Central Committee.

Also present were bishops and other representatives of the Catholic Church; Eusebio Leal Spengler, Havana City historian; and eminent Cuban artists and intellectuals and invited guests.

The "profound, continuing and ascending relations" between the two countries were emphasized by the Cuban foreign minister and Monsignor Mamberti during a press conference on Wednesday morning after official talks.
At the same time they both praised the growing and fruitful dialogue between the Cuban Catholic Church and government authorities.

Bruno Rodríguez commented on the honor it is for our people to receive Monsignor Mamberti in the framework of the 75th anniversary of uninterrupted ties between both states.
In response, the Archbishop said that he was happy to make this official and pastoral visit, and predicted a progressive strengthening of the ties established June 7, 1935.

Alluding to the U.S. blockade of the Island, Rodríguez thanked his counterpart for the Vatican position, expressed in the earlier visits of Pope John Paul II and Cardinal Tarcisio Bertone, who described that policy as "ethically unacceptable" and "oppression of the people," respectively.

Before the press conference, the Vatican Secretary for Relations with States placed a wreath at the monument to José Martí in Plaza de la Revolución.
Translated by Granma International

---
Related News
---