Cuba, Vatican say talks on dissidents continuing
Submitted by: admin

06 / 17 / 2010
---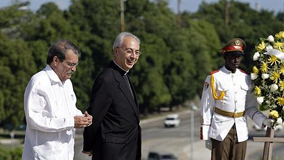 HAVANA – Cuba and a top Vatican official expressed optimism Wednesday that landmark negotiations between the church and Raul Castro's government will continue and indicated they could produce more breakthroughs on the treatment of dissidents and political prisoners.

The comments by Archbishop Dominique Mamberti, the Vatican's foreign minister, and his Cuban counterpart were the latest signal that a month-old dialogue that has already led to the release of an ailing prisoner and the transfer of 12 others to jails closer to their homes is gaining strength.

"The dialogue that is happening now makes us happy, and I hope that it will be strengthened through my visit," Mamberti said at a joint news conference with Cuban Foreign Minister Bruno Rodriguez. "I think it is important ... to see the fruits" of such talks.

Rodriguez applauded the role the Church has been playing on the island, and said all signs point to more dialogue.

"We have held fluid and profoundly productive talks," he said. "We appreciate the constructive role of the Church in these matters and we think that all conditions exist ... for these fruitful exchanges to continue."

Mamberti said he had no plans to meet with dissidents, though he did not rule it out.

The Vatican official arrived in Havana on Tuesday, ostensibly to celebrate the 75th anniversary of relations between Cuba and the Vatican. He is also scheduled to attend discussions on the island's economic plight and efforts to bridge the divide between Cubans and exiles in the United States and elsewhere.

The church has traditionally been cautious in dealing with Cuba's government since relations improved in the 1990s.

On May 19, Ortega and another church leader held a four-hour meeting with President Castro, emerging optimistic that the government was prepared to make concessions to the dissidents. Prisoner transfers began June 1, and on Saturday Cuba released Ariel Sigler, a 44-year-old inmate paralyzed from the waist down who was serving a 25-year sentence for treason.

Critics say the government's concessions have been underwhelming so far, but church leaders have consistently urged patience, saying there is no deadline for progress.

While Cuba has welcomed the Church's role, it made clear this week that it did not appreciate a running commentary on the talks from the outside — particularly Washington.

After State Department spokesman P.J. Crowley issued a mostly upbeat statement saying the United States viewed the release of Sigler as "a positive development" and hoped it would lead to the release of others, Cuba reacted strongly.

"Cuba doesn't recognize any authority by the State Department or its spokesman to pass judgments on internal matters," Josefina Vidal Ferreiro, director of the Cuban Foreign Ministry's North American affairs office, told The Associated Press late Tuesday. "Moreover, the United States doesn't have moral authority to give lessons to anyone."

Cuba and the United States have been at odds since shortly after the 1959 triumph of Fidel Castro's revolution. Cuban authorities consider the dissidents to be a mixture of common criminals and agitators funded by Washington to destabilize the country.

At Wednesday's news conference, Rodriguez also brought up the case of Alan Gross, a U.S. government contractor arrested in December on accusations of spying. Gross has been held without charge for six months, and American officials have made clear that relations cannot improve until his case is resolved.

Rodriguez said Gross had been detained for "committing grave crimes in our country at the service of the subversive policy of the United States against Cuba."

He said Gross was still under investigation and gave no indication of when he might be charged, adding that the prisoner had been given repeated access to consular officials, offered legal representation and allowed to speak with his relatives.

"The legal situation of Mr. Gross has conformed strictly with Cuban criminal procedures," Rodriguez said.

 By PAUL HAVEN, Associated Press
Source: Ap
---
Related News
---