Familiar Face Leads Cuban Tournament in Honor of Capablanca
Submitted by: admin

06 / 16 / 2010
---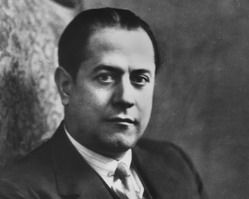 Any list of the greatest players of all time always includes José Raúl Capablanca, the third world champion.
During his heyday, he was considered almost invincible (one of his nicknames was "the chess machine," long before computers proved to be better than people) and he lost only one game in a 10-year period.

Since 1962, a memorial tournament in his honor has been held almost annually in his homeland. (That is not surprising as Fidel Castro and Ché Guevera were both fans of the game.) This year is the 45th edition and it started June 10.

The tournament is in three parts: An elite double round-robin (where each competitor plays all the others twice); a premier round-robin (one game against each of the players), which also has some strong grandmasters; and an open section.

After five rounds, Vassily Ivanchuk of Ukraine, who won the tournament in 2005, 2006 and 2007, is leading the top section with 4 points. Nigel Short of Britain, is in second with 3 points, while Leinier Dominguez Perez of Cuba, the 2008 and 2009 champion, has 2.5 points.

Ivanchuk got off to a great start, beating Short and Evgeny Alekseev of Russia. After draws in Rounds 3 and 4, he beat Ian Nepomniachtchi of Russia in Round 5. Nepomniachtchi, who had White, had problems right out of the opening.
He played the Fantasy Variation against the Caro-Kann Defense and pushed a lot of pawns instead of developing his pieces. He ended up in a difficult endgame in which he had few good moves. Ivanchuk carefully encircled him, choking off any possible counterplay and picking off White's pawns. Nepomniachtchi conceded in a hopeless position.

Short also produced a nice victory in Round 5 over Lazaro Bruzon Batista of Cuba. Bruzon, who had White, chose an odd system against the French Defense.
Each player wound up with a pawn majority on one side of the board — Bruzon had four pawns to two on the queen side, Short had four to two on the king side.
In an interesting middlegame, Bruzon sacrificed an exchange to get his pawns moving more quickly, but Short immediately gave up a bishop for two of those pawns. In the endgame, Bruzon had a bishop pair against a rook, but Short's pawns were numerous, and dangerous. Bruzon resigned as he would not have been to stop Short from promoting a pawn.

In the premier group, Emilio Cordova of Peru and Yuniesky Quesada Perez of Cuba are tied for the lead, each with 3.5 points.

Holden Hernandez Carmenates of Cuba and Ildar Khairullin of Russia are a half point behind.

Cordova and Quesada Perez both won in Round 4 on Sunday, but in different manners. Quesada ground down his opponent, Jesus Nogueiras Santiago, another Cuban grandmaster, until he blundered, allowing Quesada to promote a pawn. Cordova beat Fidel

Corrales Jimenez, yet another Cuban grandmaster, with a lightening attack against his king — highlighted by a rook sacrifice that his opponent could not accept without being mated.


By DYLAN MCCLAIN

Source: gambit.blogs.nytimes.com

---
Related News
---