U.S. SENATE RACE: Cuba-travel supporters raising money for Charlie Crist
Submitted by: admin

06 / 16 / 2010
---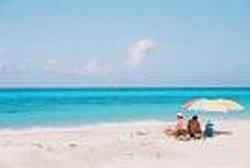 Supporters of free travel to Cuba are raising money for Gov. Charlie Crist's independent Senate bid.

As a newly independent candidate for the U.S. Senate, Crist is slated to collect checks from some people advocating opening a dialogue with Cuba.

The Obama administration lifted virtually all restrictions on Cuban Americans' travel to the island last year, overturning a Bush administration ruling that had limited their trips to once every three years.

The co-hosts include Maria ``Tessie'' Aral of ABC Charters, one of about a dozen businesses that balked at the state's proposed crackdown on travel to Cuba, and Alfredo Duran, a lawyer and former Florida Democratic Party chairman who promotes open travel and dialogue.
Both support legislation that would allow any U.S. citizen to visit Cuba.

``It's an American right,'' Duran said, though he added that he was supporting Crist for reasons that had nothing to do with Cuba.

``Crist seems open to listening to different points of view since he's moved toward the middle,'' Aral said. ``He hasn't promised anything and I don't know what he will do in the future, but he seemed receptive to conversing.''

Both leading Democratic candidates for Florida's open U.S. Senate seat, U.S. Rep. Kendrick Meek and real estate mogul Jeff Greene, support Obama's policy on allowing Cuban-Americans to freely visit their family.

Along with Aral and Duran, the Crist fundraiser on Friday in Miami Beach is co-hosted by Shareef Malnik, the owner of the famous Forge restaurant in Miami Beach.


BY BETH REINHARD AND DAVID SMILEY

Read more: http://www.miamiherald.com/
---
Related News
---