3rd Annual International Che Guevara Conference CUBA & REVOLUTIONARY INTERNATIONALISM
Submitted by: admin

06 / 13 / 2010
---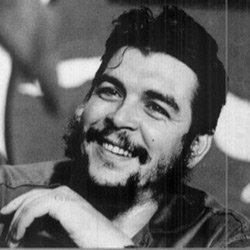 Two Day Conference, Saturday June 26 & Sunday June 27, 2010 Russian Hall, 600 Campbell Ave at Georgia St ~ Vancouver, Canada

Featuring:
DR. ALEIDA GUEVARA - lifelong Cuban revolutionary leader, a pediatrician,prominent author of the book, "Chávez, Venezuela and the New Latin America" and daughter of the legendary Ernesto Che Guevara.

MANUEL YEPE – journalist and professor at the Superior Institute of International Relations of Havana. Manuel was a leader of the underground July 26 Movement in Matanzas leading up to the triumph of the Cuban revolution, and worked directly with rnesto Che Guevara.

Dr. Aleida Guevara and Manuel Yepe will join us along with other speakers from Cuba, Venezuela, the US and Canada.

Since the triumph of Cuba's 1959 revolution to today, the vision and political ideas that shape the Cuban revolution remain a source of inspiration, discussion and debate around the world.

Through the ideas of Fidel, Che, the Cuban socialist project, and the dynamics of the mass revolutionary movement, Cuba has become a country renowned for its achievements in health, education, culture, science and many other aspects of social and human progress.

The Cuban socialist project and the Cuban revolutionary leadership, despite 50 years of an inhuman and criminal blockade by various US administrations, have never wavered to imperialist pressure.

The annual International Che Guevara Conference is an opportunity to discuss and debate the ideas of the Cuban revolution, its dynamism and how it has impacted Latin America and the world.

This year's conference, "Cuba and Revolutionary Internationalism" will discuss the foundation of the Cuban socialist revolution: revolutionary internationalism, its dynamism and its impact both inside and outside of Cuba.

The first International Che Conference in 2008 was on the theme "Che Guevara, Thinker and Fighter: Are His Ideas Relevant for the 21st Century?" The Second International Che Conference in 2009 was on "50 Years of Dynamism of the Cuban Revolution".

>> Conference Workshops Include:
1. Che Guevara, Revolutionary Internationalist: Are his ideas relevant for the 21st Century?
2. Cuba Today: How Far the Revolution Has Come
3. The Concept of Internationalism in Fidel's and Che's Ideas
4. The Origin of Revolutionary Internationalism: Through the Eyes of Marx and Engels
5. Cuba's Internationalism and its Influence on Hugo Chávez and the Bolivarian Revolutionary Process
6. Cuban Youth and Revolutionary Internationalism
7. Looking to the past: the Russian Revolution and the Foundation of the Third International and Looking to the future: the Call for the Fifth International by Hugo Chavez
8. Cuban Foreign Policy: Internationalism in Theory and Practice

**SPECIAL EVENING: Saturday night of the conference, June 26 at 7:30PM will be a special evening dedicated to the 5 Cuban heroes held in US prisons with featured speakers, music, poetry and multimedia.

For updates and more information, see the conference blog at:
http://vancouverinternationalcheconference.blogspot.com/
Organized by:
Vancouver Communities in Solidarity with Cuba (VCSC)
http://www.vancubasolidarity.com/
778-882-5223 | cubacommunities@...
---
Related News
---