The Free the Cuban 5 Committee-Vancouver is inviting you to meet this Thursday
Submitted by: admin

06 / 09 / 2010
---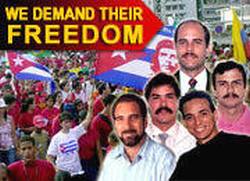 The Free the Cuban 5 Committee-Vancouver is inviting you to meet on Thursday, June 10 to protest and demand the U.S. government:
->STOP SPONSORING LIES AGAINST THE 5 CUBAN HEROES! ->FREE THE 5 CUBAN HEROES IMMEDIATELY FROM U.S. JAILS!

At a press conference held on June 2, 2010, in Washington DC, new evidence was released outlining a $74,400 campaign paid for by the U.S. government to fabricate slander and lies against the 5 Cuban Heroes.

The evidence concluded a number of journalists were paid secretly by the U.S. government to produce countless articles against the 5.

The 5 Cuban Heroes, Gerardo Hernández, Antonio Guerrero, Ramon Labañino,Fernando González & René González, have been in prison in the U.S. since 1998 for giving information about terrorist activities directed against Cuba, to the Cuban and U.S. government.

The 5 Cuban Heroes harmed no one during their work to prevent terrorism and are even responsible for saving the lives of many Cubans and internationals.

The Vancouver action will be held simultaneously alongside the picket action in Montreal organized by Le Comité Fabio Di Celmo pour les 5.

To see the picket poster please visit:
http://www.vancubasolidarity.com/posters/100610picket.pdf
VANCOUVER PICKET ACTION
Thursday
JUNE 10, 2010
4pm
U.S.Consulate
1075 W. Pender Street (Downtown Vancouver, Canada)
Vancouver picket organized by:
Free the Cuban 5 Committee-Vancouver
604-719-6947 |
[email protected]
http://www.vancubasolidarity.com/freethefivevan.html
---
Related News
---