Cuba Dairy Week comes to a close
Submitted by: admin

06 / 07 / 2010
---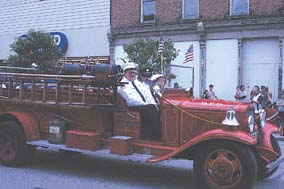 CUBA - The 44th annual Cuba Dairy Week - with the theme "Milk is a Natural" - came to a close Saturday, with a parade, a tractor pull, music, food, fireworks and fun.

Saturday's events included an Orange Crate Derby at 9 a.m. on Spring Street.
Jessica Cwiklinski took the 12-14-year-old age group. Jacob Dutton won the 9-12 year-old group. Kaleb Lounsbery was the winner in the 7-9-year-old category.

In the top racers group, Deandre Ahrens was first, Lance Weaver was second and Kohl Bubha ran third.

The Southern Tier Tractor Pullers staged a "garden tractor" event in the afternoon.
In the stock weight classification John Willis took the top spot, Mike Mackey was second and Killian Abers was third.

In the stock heavies it was Mr. Willis and Mr. Mackey again finishing in the top two spots, with Rowdy Remington in third.

Bill Hoxie took the stock altered category; Mr. Willis was second and Jerry Abers ran third.

Mr. Hoxie also took the stock-altered heavies. Ron Chapman was second and Mr. Abers was third again.

In the modified lights, Charles Burdick won first prize, followed by Jim Chapman in second and Viola Krotz in third.
Mr. Chapman was first in the modified heavies, Scott Engels took second and Ms. Krotz was third.

The winner in the V-8 lights was Ben Keesler. Mr. Engels and Ms. Krotz were second and third. In the V-8 heavies it was Mr. Keesler and Mr. Engels finishing in the top spots once again.

In the parade competition, Weston's Mills Fire Department finished first in the color-guard category, followed by Machaias and Friendship. Cuba Combined Veterans won the unattached category. Weston's Mills also won the top spot for cadence corps.

For fire department marching groups, in the 5-15 people category, the winners were Machias, Angelica and Franklinville.
In the 16-plus category, Weston's Mills and Friendship were the top finishers. Those same two departments took the most-men-in-line category.

Friendship was the only junior fire department competing. In the novelty category, Joyful Rescues took the top prize.

In the fire department equipment competition there were five categories. For Antique Trucks (1960 and older), Belmont took first and Willing was second.

Clarksville won for top pumper; Lyndon was second. Lyndon was first in the tanker division, with Machias second. In the rescue-vehicle category, Allentown was the winner, Shinglehouse, Pa., was second.

In the miscellaneous category, New Hudson and Scio were the top two.


By Doug Roorbach
Olean Times Herald

Source: www.oleantimesherald.com/
---
Related News
---