Summer's recreation in Holguin will be diversified
Submitted by: admin

06 / 07 / 2010
---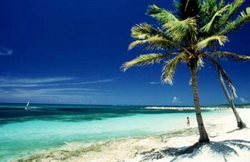 Residents of the eastern province of Holguin will enjoy the upcoming summer with a number of recreational and educational activities that will run from July 2 through August 29.

According to www.ahora .cu web site, in addition to the already traditional fiestas for the season like carnivals, Children's Day, July 26 celebrations and many others, the Holguin inhabitants will be able to spend their leisure time at the 8 beaches, 21 pools and 52 boat rides in the province's main rivers.

Holguin will have almost daily lodging capacities of up to 7,300 in the different installations already prepared for the summer months. Camping sites like Silla Gibara and Puerto Rico Libre will be ready for all day excursions as well.

As in previous summers, children will be able to visit mini book fairs while students will participate in volunteer work days to contribute to Cuba's economy.

Summer courses are also included with different subjects from computer science, to cinema and sex education. Local history will also be included through historic routes, visits to monuments and the celebration of July 3 in honor of the city Day.

Source: Ahora.cu
---
Related News
---