Silvio Rodríguez, a leading voice of the Cuban Revolution
Submitted by: admin

06 / 06 / 2010
---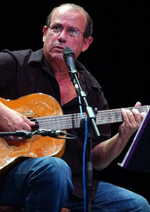 Cuban folk singer Silvio Rodriguez, a leading musical voice of the Cuban revolution, launched his first U.S. tour in 30 years in a concert blending wistful ballads with his criticism of the imprisonment of five Cubans convicted in the United States of spying.

He performed on Friday night before an adoring audience at sold-out Carnegie Hall.
A small number of protesters gathered outside the famed music venue, some supporting and some opposing Cuba's government, under the watchful gaze of New York police in vans with silently flashing multicolored lights.

Rodriguez, 63, is the latest Cuban performer recently to be allowed into United States, which had routinely denied such visas under former President George W. Bush.

Many of Rodriguez's songs extol the Cuban revolution that brought Fidel Castro in power in 1959, but others also lightly criticize the communist-led society.

Some fans in the raucous, mainly Hispanic crowd draped leftist Latin American revolutionary symbols and Cuban flags over the horseshoe-shaped balcony balustrades.
Scattered shouts of "Viva Fidel" resounded in praise of Fidel Castro, who two years ago handed over power in Cuba to his brother Raul.

Rodriguez sounded a humble note at the concert's outset, saying in Spanish, "I apologize that I don't speak English. ... This is a pity."

Most of his songs were lyrical meditations on longing for personal happiness and paeans to socially minded utopias.
But midway through the concert, he dedicated a song to five Cuban men convicted in a Miami court in 2001 on spying charges.

Rodriguez said the men were "unjustly imprisoned for more than 10 years," and he proclaimed: "They are five heroes."

U.S. prosecutors have said the men were part of a Cuban espionage ring that had spied on the Cuban exile community in Florida and sought to penetrate U.S. military facilities.

Cuba long has called for their release, saying they did not receive a fair trial in Miami, center of the exile community that fled after Fidel Castro took power.

Rodriguez's tour will include concerts in Washington, Orlando, Los Angeles and Oakland, California.


(Editing by Will Dunham)

Source: www.reuters.com

---
Related News
---