Cuban VP Verifies Progresses in Santiago de Cuba Aqueduct
Submitted by: admin

06 / 05 / 2010
---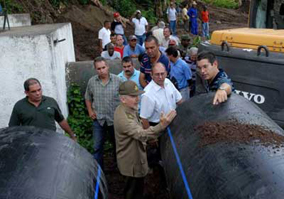 SANTIAGO DE CUBA, Cuba, June 4 (acn) Cuban Vice-President Ramiro Valdés emphasized to builders and staffs that rehabilitate the Santiago de Cuba aqueduct that efficiency, organization and execution on time of the schedule are vital.
    
Valdes reviewed the progress of the works that will provide the city with a modern, safe and stable water system, which should be concluded at the end of this year.

He visited the water intake tunnel Sierra Maestra, which will take water from three reservoirs to the entrance of the city, a filling station for trucks, the water treatment plant in Quintero, the laying of pipes in various neighborhoods and one of the 32 hydrometric areas in which city was divided for this program.

Valdes urged workers to do their jobs with quality, and he particularly referred to the works at the Quintero filtering water treatment station which required them to start all over due to breakdowns and other problems identified in the running tests.

Also, the Cuban VP reminded residents of this municipality of the necessity of saving water, primarily at a time when the country is facing a crippling drought.

The water supply network of the city was characterized by the deterioration, low coverage for the more than 450 000 inhabitants and antiquity before the beginning of rehabilitation in 2007.

It requires the distribution of 2,400 liters per second to meet the needs, but there were times when the index was below a thousand.

The investment program is so wide that has been called here the "work of the century", because it includes hundreds of kilometers of internal and external pipes, dozens of tanks, several pumping and booster stations, repairs to three water treatment plants, the making of 31 wells and the automation of the entire system.

In his tour Ramiro Valdes included the petro community built at the entrance of the city, where there is an ongoing program of families farming to produce vegetables, fruits, medicinal plants and other crops.

Valdes talked with neighbors and experts, and said that each step taken to help feed the people will be effective contributions to the objective of the country's security.

There are a total of 100 homes built with the plastic known as PVC, from trade with Venezuela, as part of the agreements of the Bolivarian Alternative for the Peoples of Our America (ALBA).

Source: ACN
---
Related News
---