Cuban President Acknowledges Bastion 2009 Work
Submitted by: admin

06 / 05 / 2010
---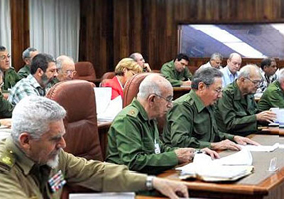 Cuban President Raul Castro stated that we should continue working in a sustained and irreversible way to solve the complex economic problems the nation is facing and increase the country's capacity to face disaster situations.

Addressing an expanded meeting of the National Defense Council, Raul Castro reiterated the concept he said during the Youth Congress:
"The economic battle is currently, more than ever, the main plan and the cadres' ideological work places, because sustainability and preservation of our social system depend on it."

In the meeting, held on May 28 at the FAR Ministry headquarter, the statesman evaluated the implementation of the Bastion 2009 Strategic Drill and analyzed the world stage and the impact the global crisis has had on the world.

Main results and experiences, not only positive but also negative analyzed in the forum, will contribute going ahead and strengthening the country's defensive power, the president told Granma newspaper on Friday.

To foster the national defense system even more, Raul Castro called to prioritize vital aspects that have to do with the economic development.

The Cuban head of State stated that the economic crisis has negatively rocked in almost all countries of the world and, of course, in the island, and with adjustments that are required, as seen now in Europe, we can increasingly perceive the situation very bad for developing countries at short term.

Assessing results of the Bastion 2009 Strategic Drill as the most important activity in the country's defense readiness last year, Raul Castro stated that the proposed objectives were achieved despite carrying out in an austere, rational way, using indispensable resources.

The country should be ready so people know what to do, so each strategic region leadership can assume life's all aspects, for all situations, either for a hurricane or hurricane threat, earthquake, tsunami and wartime, the latter is the more complicated activity, Raul Castro said.


Source: PL Translation Staff

---
Related News
---