Cuban emigre Yasmani Grandal has blossomed into a star catcher for Miami
Submitted by: admin

06 / 04 / 2010
---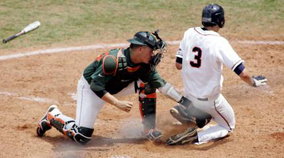 CORAL GABLES — On his first day in the United States, 10-year-old Yasmani Grandal sat in front of a TV set at his uncle's home and wolfed down two huge Cuban sandwiches, slowing only to wash it down with a jug of Coke.

Within two months, the scrawny Cuban émigré had packed on 20 pounds.

"In Cuba, we woke up in the morning wondering what we were going to eat in the afternoon," said Maria Gomez, who arrived in the U.S. on July 3, 1999 with husband Elieser, her parents and son Yasmani, now a star catcher for the University of Miami.

"He got here where you could watch television all day in a nice air-conditioned house with tons of goodies to eat. And Yasmani loves to eat."

Grandal is now 6-foot-2 and 210 pounds and, as UM prepares for Friday's NCAA Regional game against Dartmouth in Coral Gables, he is enjoying one of the finest seasons in the UM baseball program's storied history.

Two weeks ago, Grandal was named the Atlantic Coast Conference's Player of the Year. On Wednesday, he was selected as one of three finalists for the Johnny Bench Award, given to the nation's best catcher.
Grandal is also a semifinalist for the Golden Spikes Award, college baseball's version of the Heisman Trophy.

That all leads up to Tuesday night when Grandal's name is expected to be one of the first called during the first round of the Major League Baseball draft. ESPN.com lists Grandal as the ninth-best prospect available, but rumors have the 21-year-old defensive whiz going as early as No. 4 overall to Kansas City.

As Cuban migration goes, Grandal arrived in the U.S. "the easy way." Grandal's family - his mother, step-father and maternal grandparents - won a national lottery allowing them to enter the U.S. as residents.

By the time he left Cuba, Grandal's baseball prowess had become obvious. He made a Cuban junior national team as a shortstop and third baseman.

After arriving in the U.S., Grandal eventually turned into a hot draft prospect as a senior at Miami Springs High, where he was ranked as the nation's 19th-best high school player by Baseball America in 2007.

"We thought he was too good to come to school," UM pitching coach J.D. Arteaga said. "We knew he was a special one."

Grandal was chosen in the 27th round of the 2007 draft by the Red Sox, but he said the team never made an acceptable offer.

At UM, Grandal batted .234 as a freshman and .299 as a sophomore, then exploded this season. Entering Friday's game, Grandal leads the ACC in hitting (.422), slugging percentage (.754) and on-base percentage (.545) with 14 home runs and 56 RBI.

As good as Grandal has been offensively, he's been even better on defense, according to UM coach Jim Morris.

"He changes game plans because people can't run and they don't try to run off of him," Morris said.

Said Keith Law, ESPN's baseball draft analyst who served as 4 1/2 years with the Toronto Blue Jays as a scout and assistant to the general manager:
"The one thing everybody agrees on is that he's an advanced defensive catcher. He can throw and he can call his own game, which very few of these kids can do."

Grandal plans on watching the draft next Tuesday night at a restaurant bar in Miami with family and friends, but said he's not concerning himself with anything except this weekend's regional, which is the first step towards reaching the College World Series in Omaha, Neb.

Source: /www.palmbeachpost.com
---
Related News
---