Outspoken musician Silvio Rodriguez returns to New York
Submitted by: admin

06 / 04 / 2010
---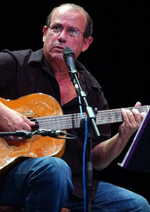 NEW YORK — For more than 40 years, Cuban singer-songwriter Silvio Rodríguez has been a polarizing figure.
To many starry-eyed idealists in Latin America and Latinos in the United States, he is a romantic poet, a troubadour for political change.
But for opponents of the 1959 revolution, especially the exile community in South Florida and beyond, he is one of the most visible supporters of a regime they will never accept.

Wearing his preferred drab proletarian dress, he took questions Tuesday from a swarm of journalists at the nightclub S.O.B.'s in advance of the concerts he will present tomorrow and June 10 at Carnegie Hall.
He pleaded that we all get beyond the ideological divide that makes him something of an enigma.

"I still believe in the revolution, but in some aspects it has grown old," said the 63-year-old performer, turning remorseful. "I sincerely believe that this situation between the U.S. and Cuba should end. There's been too much time, too much anguish, too much pain."

It has been 30 years since Rodríguez was last scheduled to play in New York, a egacy of the difficult relationship between the U.S. and his native Caribbean island.
Rodríguez said he requested several visas, only to be denied. But the advent of the Obama administration's new policy toward cultural exchange with Cuba gave him a fresh opportunity.

"The mood was much more open in this administration," said Bill Martinez, Rodríguez's San Francisco-based visa attorney.

"They were cordial and kept their commitment."

"I'm very happy to have been able to return to the U.S.," said Rodríguez. "Although many won't believe it, I admire it in many ways."

One of the founders of the 1970s Cuban "nueva trova" movement, a genre that combined fervent revolutionary lyrics and Cuban balladry with North American folk-rock and jazz, Rodríguez is frequently compared to Bob Dylan.
His voice is often frail in the high registers, and he is sometimes appreciated more for his poetic lyrics than his compositional style.
But Rodríguez, who is also strongly influenced by the Beatles, is perhaps best described as a cinematic chronicler of Cuba's revolutionary experiment.

"The first North American music that influenced me was from films," he said. "They had marvelous themes that would stay in your head, like 'Vertigo,' or 'The Man With the Golden Arm.' They have remained in our collective memory."

As much as Rodríguez credits his neighbor to the north for fundamental influences, he is adamant about protecting what he feels the revolution has accomplished, such as Cuba's universal health care and education.
For him, the first step toward rapprochement would be for the U.S. to lift its decades-long economic embargo of Cuba, something he recently debated with long-time Castro critic Carlos Alberto Montaner in Spain's newspaper, El País.

Ever the internationalist, Rodríguez had warm words of praise for striking university students in Puerto Rico, where he had just played over the weekend, and a harsh criticism of the controversial immigration control measure recently signed into law in Arizona. "It's a law that is poorly conceived, because it doesn't treat human beings well," he said.

But while some see him as an ideologue and apologist for the Cuban regime, Rodríguez has had his share of run-ins with authority, and is believed to sometimes cloak his dissent with cryptic lyrics.
He is famous for his love ballads, but some of the women he sings about appear to be symbols of political heartbreak.

Rodríguez has come to think that Cuba needs to "evolve" internally to avoid being changed by outside forces.
In the lyrics to "Sea Señora" (Be a Woman), from his latest album, "Segunda Cita," (Second Date), he makes his case with a poetic turn of phrase. "Against disenchantment, offer desire," he sings, backed by a "Penny Lane"-esque arrangement. "Transcend the 'r' in revolution."

"Revolution is a circumstantial event," he said when asked about the song. "Evolution is a constant necessity for societies and people."

Silvio Rodríguez Where: Carnegie Hall, Seventh Avenue and 57th Street, New York When: Tomorrow and June 10 at 8 p.m. How much: $65 to $195. Call (212) 247-7800 or visit carnegiehall.org.


By Ed Morales/For The Star-Ledger

source: The Europa Press
---
Related News
---