Spanish Minister: EU Position on Cuba Can't Be Justified
Submitted by: admin

06 / 01 / 2010
---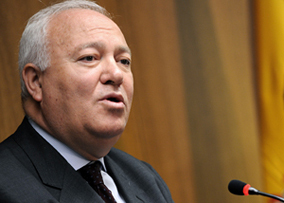 RIO DE JANEIRO – Spanish Foreign Minister Miguel Angel Moratinos said in an interview published Monday by the Brazilian daily O Globo that the European Union's Common Position with regard to Cuba can no longer be justified.

Moratinos, who participated last week in the 3rd Forum of the Alliance of Civilizations in Rio de Janeiro, said Spain, which occupies the EU presidency for the first half of this year, has unfrozen relations with Cuba and established a political dialogue, adding that the only thing left to do is to overcome the so-called Common Position.

"We're going to discuss that in June and we don't know what the final decision will be because we have to have consensus. But it's a position which there is no reason to maintain," Moratinos told O Globo.

"The foreign policy of the EU is defined via bilateral, regional accords ... And this is the only common position that the EU had (in) the entire world.
There are those who defend it who say that it needs to be harsher, but that road does not serve to reach our objectives," Moratinos said.

The EU's Common Position, established in 1996 on the initiative of then-Spanish Prime Minister Jose Maria Aznar, links dialogue with Cuban authorities to moves on their part in favor of a democratic opening and defends the dialogue process with the internal opposition.

The Spanish government has emphasized the need to convert the Common Position into a bilateral accord.

"Relations with Cuba were frozen. There was no dialogue. In Spain, we've begun a new policy of dialogue in the past five years.

"We're continuing to work but always respecting the rhythms and the decisions of the Cuban authorities. That mechanism is the one we want to bring to the EU," the Spanish foreign minister said.


Source: www.laht.com
---
Related News
---