Kendry Morales' injury will change home plate celebrations
Submitted by: admin

05 / 31 / 2010
---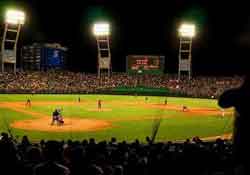 It's one of the most popular highlights - the mob at home plate that greets a player who hits a walk-off (game-ending) home run. And after Saturday, they will never be the same.

In one of the freakiest injuries ever, the Los Angeles Angels lost first baseman Kendry Morales, probably for the season, when he broke his leg while leaping onto home plate after hitting a game-ending grand slam against the Seattle Mariners.

The loss of Morales, 26, is huge to a lineup that has lacked punch so far this season. Morales, whose road to the big leagues from Cuba was anything but smooth, was hitting .290 with 11 homers this season after hitting .306 with 34 homers in 2009.

"We went from being so happy and so excited for Kendry to hit that ball, and for that to happen, it's the highest of highs to the lowest of lows," Angels catcher Bobby Wilson said to the Orange County Register. "There's a sour feeling in here right now."

The Angels probably will call up Robb Quinlan to take Morales' place for now, but they also might be thinking about making a trade, too. Lance Berkman is likely on the block in Houston, and Paul Konerko could probably be had from the Chicago White
Sox.

And you'd better believe that every clubhouse in the majors is looking at this as a lesson. It seems likely that you'll never see this kind of home plate celebration again, especially in a situation on a team that improved to 24-27 with a win over a last-place team.

Fantasy impact: Kendry Morales is a fantasy starter in any league, and if he's on your team, you need a replacement.
Fantasy writer Kevin Kleps covers that in his Weekly Planner. If you need a pickup, he's got some advice in his Waiver Wire column and more in his Injury Watch.


Fuente: baseball.about.com/

---
Related News
---