SummerStage Music Presents: Pupy y Los Que Son Son and Jose Conde
Submitted by: admin

05 / 31 / 2010
---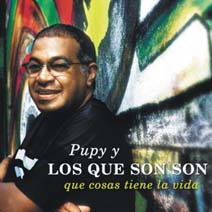 Rare live set from songo icons Pupy y Los Que Son Son, Latin grooves from Jose Conde - Cuba and Cuban America reunite at SummerStage!

As a former member of the internationally acclaimed Los Van Van, Cuban pianist, composer, arranger and bandleader César Pedroso has proven his talents.

Now,touring under his nickname 'Pupy' Pedroso has set about taking the planet by storm. Along with his group, Los Que Son Son, Pedroso is a trailblazing representative of the relatively young style of Timba music. Pupy y Los Que Son Son's SummerStage appearance marks a major highlight of their first US tour.

Singer, songwriter, and producer Jose Conde is celebrated for his recordings with the Cuba-centric band Ola Fresca, which deviate from traditional Cuban music forms through a liberal juxtaposition and fusion of rhythms and the playful use of language.

The Brooklyn-based, Miami-raised son of Cuban immigrants, Conde has reached a large audience by being featured in numerous
recent compilations.

Tonight marks the official unveiling of music from his upcoming solo 2010 release with his funky new pan-Latin powerhouse of a band,the nu Latin Groove.


Central Park
SummerStage
Mainstage
Enter the park at
69th Street & 5th Ave.
Show: 3:00PM
Free Show / All Ages
For more info on SummerStage go to: www.summerstage.org

For more info on Pupy y Los Que Son Son go to: www.myspace.com/pupyylosquesonson
To listen and/or purchase Pupy y Los Que Son Son 's self titled CD go to: Amazon.com iTunes

Source: Yahoo
---
Related News
---