Carcoma in the city of Camagüey
Submitted by: admin

05 / 22 / 2010
---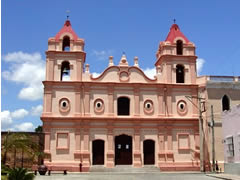 The pieces of virgin wood discovered yesterday announce the possible forms that will be taken as future art pieces, thanks to the work of craft workers participating in the 6th Carcoma Festival, expected to taken place in this city until this May 21.

In order to give a better fiber piece from an aesthetical viewpoint, close to 60 competing workers continued today with their public work in the Plaza de los Trabajadores, where people are showing the collective project Concierto barroco, made up by around twenty mulit-colored pieces filled with exhiberant Cuban feeling.

The event announced by the undervenue of the Asociación Cubana de Artesanos Artistas (Cuban Asociation of Artist Artisans) (ACAA in Spanish) added the central exhibition El taller: manos e imaginación (Workshop: hands and imagination), by Virgilio Loret de Mola, in the Midas gallery; and of the collateral exhibition Estampas clásicas del habano (Classical Tobacco Images), by René Roque Delgado in the colonial courtyard of the important hotel.

In the Juan Bautista Collot room, those visiting the festival shared with the engraver Magdiel R. García, mention in the seconf Contemporary Art Salon Camagüey 2010, who talked about the late experiences of creation on an international level, because the preservation of that artisan tradition is one of the national objectives of the World Cultural Heritage Site, an announcement received by Camagüey in 2008.

The life work of the artisans in the open space will continue and there will take place some hability competitions.
In the birth house of El Mayor there was innaugurated the exhibition Manos (Hands) by Nazario Salazar, guest of honor member of the ACAA, important potter, graphic designer, who is paying tribute with this photographic proposal to José Martí, Cuban National Hero.

By: Yanetsy León González

Source: Cubarte
---
Related News
---