Cuba Looks to Improve Education System for 2010/2011 Year
Submitted by: admin

05 / 13 / 2010
---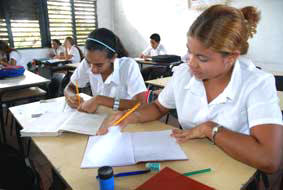 The National Seminar on Educational Planning for the 2010/2011 Academic Year got underway May 10 focusing on the first item on the agenda: to discuss strategies to achieve greater efficiency and control over teacher training and resources
During her opening address, Cuban Education Minister Ena Elsa Velásquez Cobiella emphasized the need to increase efforts to become more resource efficient and less wasteful.

Some steps taken so far toward achieving these goals are reducing the number of boarding students, minimizing the number of rural schools with enrolments under five students, and increasing the number of students per group.

Raising awareness among students across all educational levels concerning the importance of work will be one of the main priorities for the upcoming academic year.

Manual skills training, for instance, will once again be included within the study program at secondary centers.

"Also among next year's priorities are developing vocational training strategies in accordance with the needs of each territory, with a focus on increasing economic production and streamlining work with government organisations to help consolidate political values among the younger generations," said the Education minister.

Velásquez Cobiella also stressed the need to develop new syllabuses for Cuban history. Other measures to meet next academic year's goals will be reducing the number of pre-university students and university enrolments, prioritizing enrolments in technical training schools while at the same time raising the quality of higher education.

The education official said that applying these new measures requires a substantial overhaul of the educational system, which includes building new educational facilities and multidisciplinary education centers.

As next year's educational program prioritizes specialized technical training,education institutions in 156 municipalities across the country will be providing technical study courses, with a focus on agriculture, accounting and construction.

The education minister spoke about the importance of the seminar, which will move to provincial and municipal education centers throughout Cuba beginning next week.

Attending this first meeting were Olga Lidia Tapia, a member of the Cuban Communist Party's Central Committee, Vice President of the Council of Ministers José Ramón Fernández, and representatives from the education sector.

Opening new teacher training centers

Guidelines for the new academic year also include the opening of new teacher training centers for junior high-school graduates in all Cuban provinces.

Primary Education official Regla Silva Hernández said that "receiving mid-level teacher instruction offers students greater academic success and helps them consolidate their vocation as teachers.
They will also be given the chance to pursue higher education studies within the field of pedagogy."

Some of the new centers will train teachers for nursery and special education schools. "We will prepare professionals with solid cultural backgrounds, and the ability to communicate their knowledge.

Our criteria for selection are strict because we want prospective candidates to have the ethical and moral values necessary to undertake the vital task of preparing the future generations."

Silva Hernández concluded saying that enrolment in the teacher training institutions will be adjusted to meet the needs of each territory.

In the City of Havana, for example, there will be an estimated 800 places; while in the western provinces, enrolment will range from 300 to 400.

By Margarita Barrios

Source: Yahoo group
---
Related News
---