Famous Cuban vedette to be distinguished
---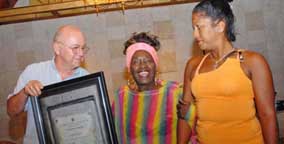 Cuban vedette, Candita Batista, received here the Distinción Artista Emérito (Distinguished Artist Award) from the Unión Nacional de Escritores y Artistas de Cuba (National Union of Writers and Artists from Cuba) (UNEAC in Spanish).
The president of the institution, Miguel Barnet, gave the singer, born in the eastern province of Camagüey, the recognition for her extraordinary artistic work.
Barnet praised her art that has walked through the big stages of the world, and he highlighted her vocation of being Cuban.
Candita was a battle against the demons of racism during the 1940's, he emphasized –winning over the racial barriers of those times by her beauty, talent and versatility.
With the art of the pregón, guaracha, son, lyrical songs and popular music Candita has represented the island in several parts of the world during her more than 70 years as a singer.
In spite of her 93 years she remains active and she has recently founded the Mokekeré Group.
The same distinction was also granted today to the outstanding journalist, essayist, playwright and researcher from Camagüey, Manuel Villabella, president of the Nicolás Guillén Foundation in the territory.
Before the triumph of the Revolution in 1959, Villabella founded here the literary groups Los Nuevos (The New ones) and Los Nuevos Tiempos (The New Times) and later on, the theater company for children La Edad de Oro (The Golden Age) and the
Camagüey Dramatic Group.
UNEAC also conferred the Majadahonda Distinction to the musicians from Camagüey Orlando Beltrán and Eduardo Fernández, and to the audio-visual specialist Oscar Viñas.
Source: Cubarte
---
Related News
---