Cuban Farmers Benefit From ALBA Project
Submitted by: admin

05 / 08 / 2010
---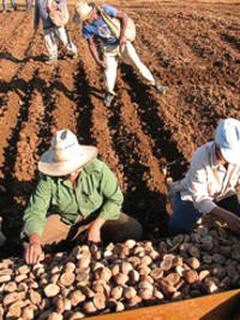 CIEGO DE AVILA, Cuba, May 7 (acn) Seven watering systems in cooperative units in the province of Ciego de Avila were upgraded so they can operate on electric power as part of a joint ALBA project between Cuban and Venezuela.
The initiative, named Proyecto Endogeno, started last year in the south of Ciego de Avila, a province in central Cuba. It included the installation of an irrigation mechanism in another cooperative unit with which 160 acres can be watered in one day.  
The president of the National Association of Small Farmers in the province, Pablo Gonzalez, said the investment amounted to $831,000, with which the cooperative facilities were also remodeled to improve the farmers' working conditions.  
He mentioned among construction actions the building of a repair shop, units for pig raising, while tools and repair parts for trucks and tractors were distributed.
The fund was also used to repair 10 tractors and buy other five and also in social works for the production of roof and floor tiles.  
ANAP's top leader in the province Noel Gil Plasencia said some $400,000 are expected to be invested this year for the benefit of cooperative and private farmers as part of the project.
ALBA has facilitated the signing of several collaboration agreements between Cuba and Venezuela in vital sectors such food industry, agriculture, mechanical industry, communications, etc.  
Source: ACN
---
Related News
---