Senate: U.S. broadcasts to Cuba failed
Submitted by: admin

05 / 04 / 2010
---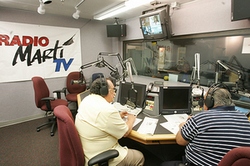 Radio and TV Marti, the U.S. government-sponsored broadcasts to Cuba, have failed to make an impact on the communist-led island and sometimes show a pro-Cuban bias in news reporting, a new Senate report said on Monday.
The report, which was prepared by the Senate Foreign Relations Committee, also recommends moving the Marti headquarters from Miami to Washington, so it can "attract quality talent from outside of Miami."
"It's disappointing that, after 18 years, Radio and TV Marti have failed to make any discernable inroads into Cuban society or to influence the Cuban government," said Sen. John F. Kerry, Massachusetts Democrat and committee chairman. "We have to
reinvigorate people-to-people relations with Cuba and enhance our outreach to civil society."
As the main problem the report identifies the failure to "adhere to generally accepted journalistic standards," which has led to "broadcasting unsubstantiated reports from Cuba as legitimate news stories and using offensive and incendiary language in news broadcasts."
In addition, "allegations of cronyism and malfeasance continue to haunt" the Office of Cuba Broadcasting (OCB), the report said.
In its release of the report, Mr. Kerry's committee said that integrating Radio and TV Marti with the Voice of America "would help ensure that the programming meets VOA standards."
The Cuban broadcasts "must return to the basics to clean up [their] operation," and they "should spend less money on measuring audience size and focus more on quality programming," it said.
The report is based on interviews with employees of the OCB, the International Broadcasting Bureau (IBB) and the Broadcasting Board of Governors (BBG).
"It is important that IBB improve guidance, training and oversight for analysts performing program reviews, provide regular and comprehensive journalistic standards training, and ensure political and other inappropriate advertisements are not shown
during OCB broadcasts," the committee said.
By Nicholas Kralev
Source: www.washingtontimes.com
---
Related News
---